Collaboratively designing an improved school system for Bermuda
Learning First Bermuda
With Ministry of Education, Bermuda
Bermuda is a proud nation; a small island in an increasingly globalised and uncertain world.
For Bermuda and its young people to survive and thrive in the 21st century, schools must develop the skills, knowledge, attitudes and values that will help them to access and create jobs of the future, be active citizens and tackle increasingly complex challenges.
Learning First is a programme of work designed and facilitated by Innovation Unit in partnership with officers in the Bermudian Department of Education. This partnership supports schools (teachers, principals, students and support staff), parents and the wider community to realise the Bermudian Government's Plan 2022 vision that 'All students are educated to lead personally and professionally, compete locally, and contribute globally'.
In late 2022, after over two years of co-design with schools and the community, Bermuda's first Signature Schools will open its doors to students. Signature Schools offer young people the opportunity to engage in 'Signature Learning Programmes': project-based, personalised learning that blends academic learning with real-world trade and professional skills, and makes stronger connections between school, industry and community learning.
"We need a system that provides the opportunity to succeed, no matter the context in which children learn" The Hon Diallo Rabain JP, MP Minister of Education

Beginning the journey
Learning First is collaboratively designing an improved school system for Bermuda that is locally relevant, globally connected, engaging and challenging; so that every child can fulfil his or her full potential. Learning First began by exploring six core priorities required to transform its public schools: design principles for learning, curriculum, pedagogy, learning environments, education workforce strategy and graduate outcomes and credentialing.
60 educators, parents and community members engaged in the initial stages of prototyping.
Real, lasting transformation is owned not only by senior leaders and decision-makers, but by the people who are affected by change: students, parents, teachers, school leaders and the communities around them. An ambitious, invigorating vision was drafted alongside members of the education and business community that offers a direction for the future of education in Bermuda, and creates a sense of ownership in Bermudians for the work their country is embarking on.
Designing the foundations
A Design Team of approximately sixty teachers, principals, members of the Department of Education, parents, community and business leaders was formed in late 2020 to develop and test solutions to challenges and opportunities in the six priority areas. Design Teams started the transformation journey by undertaking user research within their communities to gather experiences and perspectives about the Bermuda Public School System, and insights and ideas on how schools and the system can be improved.
Design Teams worked alongside subject-matter experts to develop and prototype new possibilities within each priority area, inspired by what was discovered through their user research and other sources of evidence.
Developing Signature Learning Programmes
In mid 2021, the work in these priority areas came together with the decisions from a public consultation into detailed design briefs for individual 'Signature Schools', which will offer Signature Learning Programmes in areas such as Science, Technology, Engineering and Maths and Trades and Professions amongst others. The briefs formed the basis for local School Transformation Teams to interpret the requirements of the priorities and their selected Signature Learning Programmes, and develop features that are responsive to their local context.
With the support of the Department, Innovation Unit and professional development activities, School Transformation Teams are developing and prototyping their Signature Learning Programmes alongside their communities and learners so that they can be rigorously tested and implemented over time.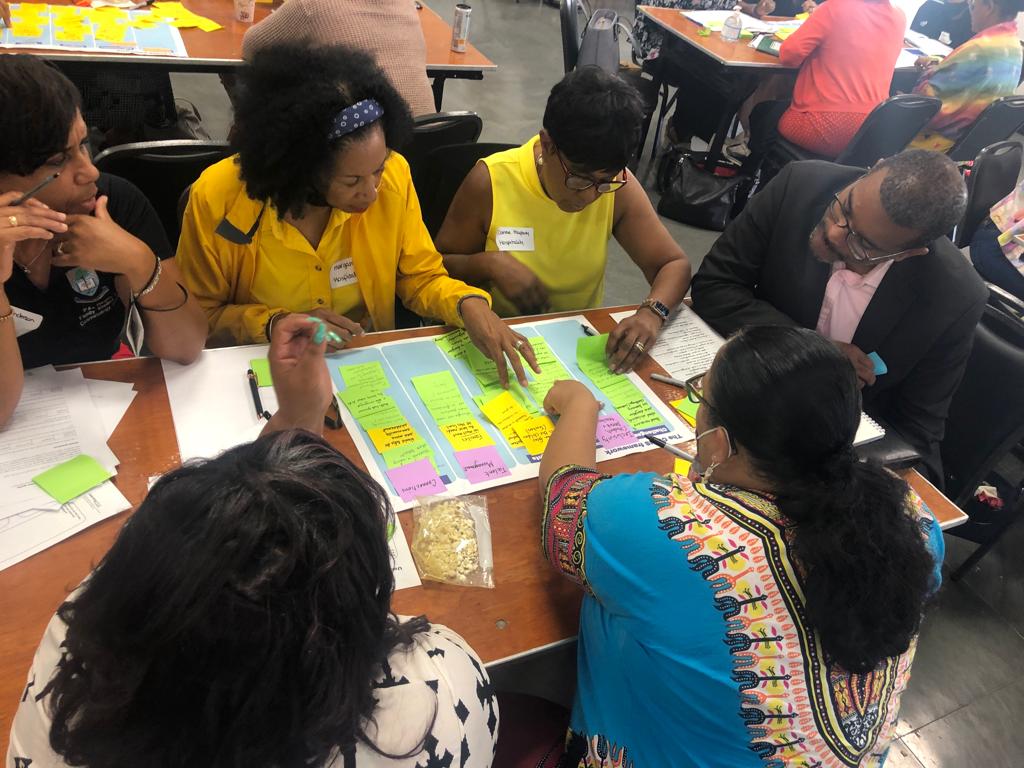 In 2022, members of the community came together with teachers, school leaders and subject matter experts to co-design curriculum and pathways to entry for new Signature Schools, and engage in professional learning. Educators learned together what it will take to make Signature Learning inclusive and accessible to all Bermuda's students, and the new role that a reimagined advisory approach will play in supporting the social and emotional growth of our young people alongside their knowledge and skills.
Student success is at the heart of our school system's transformation process. I expectantly look forward to how we will dynamically enhance our students' skills, self-development, attitudes, and values. Transformation today speaks to the urgency of our system unlocking new opportunities and generating accelerated growth for all of our studentsActing Primary School Principal
In September 2022, the first two Signature Schools will open – each offering two unique Signature Learning Programmes for young people to immerse themselves in. September will also see the beginning of work for five new Transformation Teams: two working on redesigning two primary school sites into Bermuda's first two Parish Primaries which will reimagine primary schools as vibrant community learning hubs; two continuing to build additional Signature Learning Programmes for existing Signature Schools; and one creating a design for a new Signature School focusing on Hospitality and Tourism and Education Services.
In parallel, Innovation Unit is working with the Department of Education to create the enabling system conditions, policies and relationships to support redesigned schools and their ability to respond flexibly to changes in the years to come.
Find out more about Learning First on the programme's website, and read one of Learning First's recent eNewsletters.