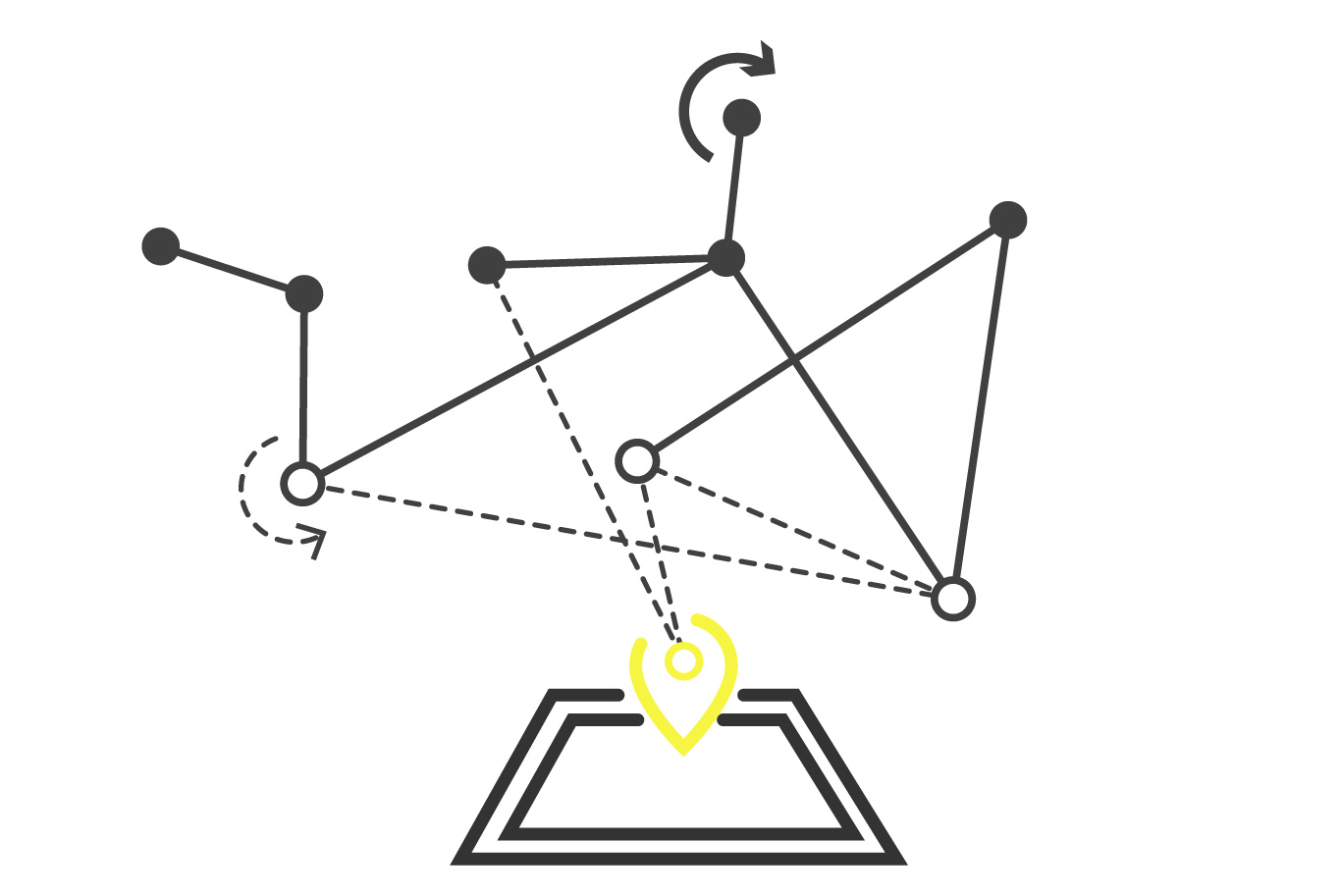 Mindsets for Social Innovation
Blog | Words Aimee Hadrup | 03 Dec 2018
The following mindsets for social innovation were developed by Innovate Change prior to its merge with Innovation Unit.  
These mindsets were developed in response to what we were noticing about an increasing focus on methods and tools within social innovation practice, and a lack of emphasis on the ways of thinking or being required for this way of working to be truly transformative.
The rise in demand for social innovation has caused a proliferation of how-to guides and 'toolkits'. While these resources have spread new ways of working across the world, they often fail to delve into what we need to believe and how we need to think, to tackle the complex challenges we face today. When social innovation methods are blindly followed without the mindsets needed to implement them well, this can lead to poor outcomes and disenfranchisement.
These mindsets for social innovation form the practice framework for our work in Aotearoa New Zealand – they describe our way of being in our innovation work.
Curiosity | Whaowhia te kete mātauranga
Being radically open and unburdened by expertise.
People are the experts | Rangatiratanga – He aha te mea nui o te ao, he tangata, he tangata, he tangata
Privileging the views and participation of people with lived experience.
Learning by doing | Ako – Mā tini mā mano ka rapa te whai
Preferring to learn through action to improve our ideas.
Comfort with failure | Ahakoa nga heke, he hāneanea te haere
Cherishing the learning opportunities failure brings.
Being in the grey | Kia noho tau i te rangirua
Being comfortable with ambiguity and not knowing the answers.
Curiosity | Whaowhia te kete mātauranga
Curiosity is a fierce, unwavering desire to know more. When we are curious we let go of what we believe is fixed, instead seeking out new and different perspectives on how the world is, or could be.
Why we need to be curious to do social innovation
It's common for us to use our knowledge and experience to avoid curiosity; 'I know about this issue and these people, I've done this work for years'. But to get a different result, we have to do things differently by challenging what we hold to be true and assuming that we don't yet know the answers. By staying curious about the world, the views and needs of others – and even about ourselves – we open our eyes, minds and hearts to new possibilities. This is how creativity and innovation become possible.
How it works in practice
Curiosity asks us to to:  
Accept that we can't know everything




People and culture are constantly in flux so we cannot expect ourselves or others to have all of the answers. This means letting go of our expectations to be 'right' or the 'expert'.

Question and listen intently




we have to ask creative and difficult questions to get past assumptions that can prevent us from learning more. Sometimes this means asking questions we are afraid of asking, and listening to uncomfortable answers.

See and hear it it all




We often seek feedback after making decisions, but this means that we naturally ignore feedback that doesn't neatly fit within our original plan. We must start with curiosity to see issues from many perspectives – including ones that, at first, don't seem to make sense.

Be changed




We need to be open to changing how and what we think through what we see, hear, feel and experience. Curiosity cannot work if we're dogmatic and closed off to change.
People are the experts | Rangatiratanga – He aha te mea nui o te ao, he tangata, he tangata, he tangata
When we believe that people know their lives better than anyone else, we work hard to ensure that individuals and communities play an active role in making the decisions that shape their lives.
Why we need to believe that people are the experts to do social innovation
When the needs and values of people are at the heart of solutions intended to serve them, they're far more likely to actually work and therefore be adopted. It's important we hear from these people early and often to avoid creating solutions that are based on assumptions. When we do things 'with' people instead of 'to' them, not only do they make the solutions useful and usable for others, they also become the strongest advocates.
How it works in practice
To work in partnership with people who have lived experience, we often set up a co-design group at the start of a project to help us:
identify and frame the problem or opportunity

shape a research approach

facilitate interviews with whānau (family), friends and/or neighbours

generate ideas in response to the research findings

test the ideas

make the ideas a reality
To do this, we have to recognise our own biases and loosen our grip on the process and solutions.
Learn by doing | Ako – mā tini mā mano ka rapa te whai
Learning by doing is a preference for action – making and experimenting – instead of endless meetings and talking.
Why we need to learn by doing for social innovation
It's common in the public sector to try and solve a problem through many meetings, advisory groups, and committees. It's also common for project teams to take an idea from conception straight to implementation. Both of these approaches can mean that assumptions (such who the audience is, what their needs are, how the solution will be delivered) which are built into the idea are not tested until it becomes live. This comes with significant risk that the idea will not meet its business or social objectives, wasting both time and money.
Instead, using a prototyping process to test potential solutions helps us quickly learn about our ideas and adapt them at low cost.
Learning by doing offers us:
An end to circular conversations




by using results from real tests to inform our decisions instead of opinions and guesses.

Buy-in




through creating and testing prototypes, people who will benefit from a solution are engaged as makers, critiquers and key decision makers which creates ownership over the ideas we're exploring.

Less risk




by quickly learning if things don't work, we can adapt or abandon them early on. This creates far less financial and relational risk than abandoning a full scale pilot, expensive campaign, and/or national roll-out.

New evidence




when a new solution is proposed, we commonly hear the critique

"there is no evidence to support that"

. Generally speaking, innovations have no evidence (yet) as scientific evidence requires significant time and financial investment. Through learning by doing, we begin to generate new evidence, that privileges the experience of the user – a voice that is less often heard in traditional planning processes.
How it works in practice
Prototyping is a rapid and often inexpensive way of making an idea tangible. It can be used to test almost anything; products, services, spaces, policies, roles – even relationships. We then make changes – adding, adapting, or removing parts – as we learn what works and what doesn't.
If we've made something tangible, and are ready to test it, learning by doing asks that we:
Test without attachment, and with an awareness of confirmation bias

Make it genuinely safe to fail

Engage all our of our senses to learn

Take pause from doing, creating space for honest reflection    

Be willing to adapt or discard ideas that don't have merit in their intended context

Repeat this recipe, until we've tested all our assumptions.
Comfort with failure | Ahakoa nga heke, he hāneanea te haere
Being comfortable with the possibility of failure is accepting that an idea might not work, but trying it anyway to learn what we can. It's about being honest, realistic and daring.
Why we need become comfortable with failure to do social innovation
The personal and professional stigma attached to failure continues to be a significant barrier to innovation, often hindering what we try (and learn) in fear of not getting it right. If we want to achieve different outcomes, we have to try new ways of doing things and accept that some of our ideas won't work.
How it works in practice
Embracing failure asks us to:
Detach ourselves




separate our ego, emotions, and sense of personal worth from our projects and ideas so that we can rephrase "I failed", to "the idea/concept/model failed". This means we can hold our ideas lightly and allow them to change, evolve, or be abandoned when they don't work.

Reflect often




on what went wrong and what could be done differently next time.

Dispel the illusion of 'eureka' moments




although we're often told that brilliant ideas come naturally to talented, creative people, this is seldom true and unhelpful to perpetuate. 'Lightbulb moments' often arrive after many failed experiments.

Aim for small – not epic – failures




different failings have different risks and implications. Prototyping early and often helps us test whether something will work, and take small considered risks before we begin implementation.

Support others to fail




A culture where failure isn't accepted can lead to hiding the truth, anxiety, and missed learning opportunities. Teams and organisations need to embrace the possibility of failure and support individuals to share what they learn along the journey.
Being in the grey | Kia noho tau i te rangirua
To be in the grey is to be comfortable with ambiguity and uncertainty, so that we are open to new ideas. Rather than presuming that problems are clear cut and the solutions are obvious, it's accepting that we live in a complex, uncertain world.
Why we need to be in the grey to do social innovation
When trying to tackle a complex problem (such as poverty or homelessness), sometimes we can feel overwhelmed by the unknown and frustrated by how long it can take to see change. We look for 'silver bullet' solutions to complex problems. This often leads to leaping to conclusions and reaching for old, familiar solutions for a sense of predictability and control. Instead, we need to dive freely into the grey space by asking big, fundamental questions and exploring new possibilities.
How it works in practice
It's natural to crave a sense of predictability and control – yet it's dangerous to assume we know all we need to know and can see into the future. Instead of fearing the unknown and unpredictable, we need to dive freely into the grey space of playing, testing and learning. This keeps us asking questions and exploring new possibilities.
Sometimes we need to step outside our comfort zone in order to be creative or innovative.To do this, we often bring in creative thinkers from outside the sector we are working in to raise good questions, suggest interesting ideas, and provide new ways of framing old problems. Instead of letting their lack of knowledge in a particular area hold them back, they thrive in the grey by looking at things differently and widening our view on a challenge.