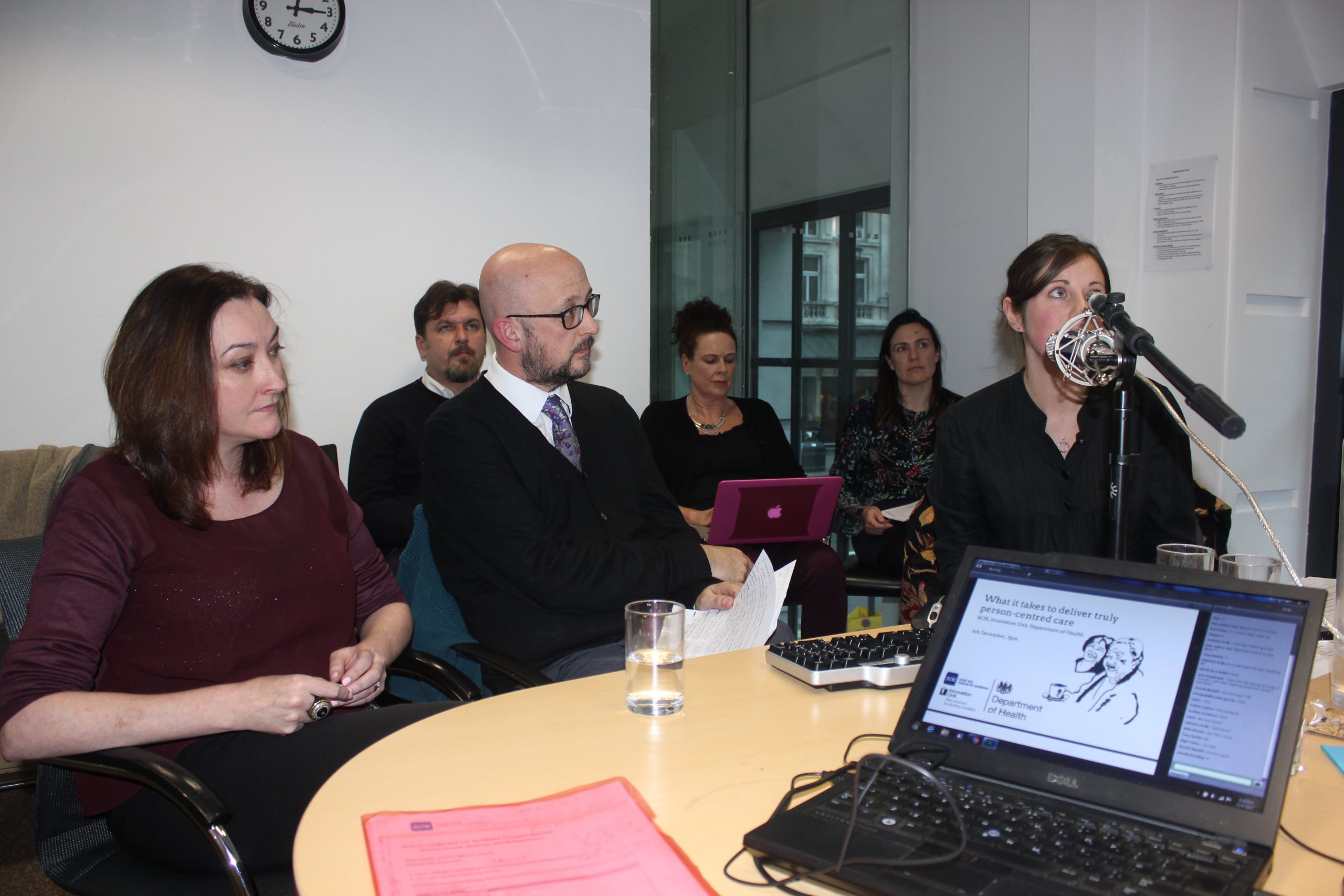 What does it take to deliver truly person-centred care?
Blog | 31 Jan 2018
As part of the Named Social Worker programme, Innovation Unit, SCIE and the Department of Health & Social Care hosted a webinar to explore what it takes to deliver person-centred care.
We heard from:
Elaine James and Rob Mitchell from Bradford County Council about their experience of delivering person-centred care through the Named Social Worker programme

Igor Tojcic from

Lomakatsi

, on how creative therapy has turned people's lives around

Tricia Nicoll

on her experience of raising ambitions for young people in West Sussex

Alex Jones from Wigan Council, about developing asset-based services for young people in and on the edge of care
The common thread running through all of the stories that were shared is that we must raise our aspirations and our expectations of what is possible for people. We need to liberate professionals to do what it takes to really help the people they are working with, so that they may enjoy what Tricia Nicoll calls 'gloriously ordinary lives'. Here we highlight some key themes of the discussion from the webinar:
We're all individuals
The first step to knowing what kind of support someone might need – beyond their care plan – is about getting to know that person, and building a relationship with them. Through this we can look at what they love, are good at, who they spend time with, or want to, where they go and what kind of lives they hope to live. This kind of relationship building isn't always straightforward. Lomakatsi, for example, has worked a lot with people who cannot communicate verbally. They use group work to build people's confidence, inspire each other and find multiple ways to express themselves through art, music or writing.
We can't forget that each professional is also an individual. The strengths and interests and motivations that they bring to a situation will also vary. Learning what different professionals can do, means that personalised support becomes more possible. Drawing on people's networks and the community around them can upskill professionals in new areas, and can mean that the person who needs support has a wider set of skills and knowledge to draw upon.
Joyful, happy lives
Within health and social care there are numerous measures and outcomes that are tracked. Evaluation is something that is important in any type of support, in order to make sure we are learning about what works, and people are getting the best outcomes for them. Increasingly, we are seeing happiness feature as part of these measures. Asking: 'is this person happy in their life now?' pushes the boundaries of how we measure success and can change how we motivate ourselves to create meaningful lives for people in our care.
Additionally, let's not forget that, for professionals as they too need to find joy in their work. This is particularly relevant in residential settings where the worlds of professional support and home life meet.
Widening what we mean by 'support'
It is easy to slip into a narrow clinical definition of support when we are trying to help. To help people thrive, we need to broaden our horizons, build meaningful relationships, and give professionals the space to do what they think is needed. Tyler's story, shared by Tricia Niccol at the webinar is an example of what is possible when working in this way. Tyler is 12 years old and has autism spectrum disorder. With his family finding it hard to cope with his care, he was on the cusp of moving out of the area to attend a specialist school in another county. Moving away from his home and family would be a drastic change for him, and was something that neither he nor his family wanted. Through reallocating his personal budget to pay towards a DIY makeover of the house, and a holiday for the family, his family could find the space and time to cope better. Tyler could remain at home, receive flexible support from a local provider, and the family could stay together.
For professionals, using the tools we already have can be a very effective way to ensure everything possible is being done to create personalised support for people. The Mental Capacity Act (MCA) is a crucial part of this. Using Principle Social Workers as a bridge between practitioners on the ground and senior management can also make sure that the MCA is understood and implemented across organisations. This is also part of the package of changing how we see support – that it is not just delivered by practitioners, but needs to be deeply understood by everyone across organisations.  
Beginning at the point of understanding everyone as an individual who can and want to live their own joyful and happy life, and widening what we class as the 'support' we can deliver to help get them there, we can start to see what it really takes to deliver person-centred care. It takes passionate practitioners, but they cannot do it alone. They must be part of driven and flexible organisations.
The Named Social Worker is now in Phase 2, and Innovation Unit is working closely with Social Care Institute for Excellence (SCIE) to carry out an evaluation of the outcomes for the six sites involved in the pilot. This, and more outputs from the programme, will be released in March 2018.
Please contact Chloe Grahame if you have any questions on the Named Social Worker Project