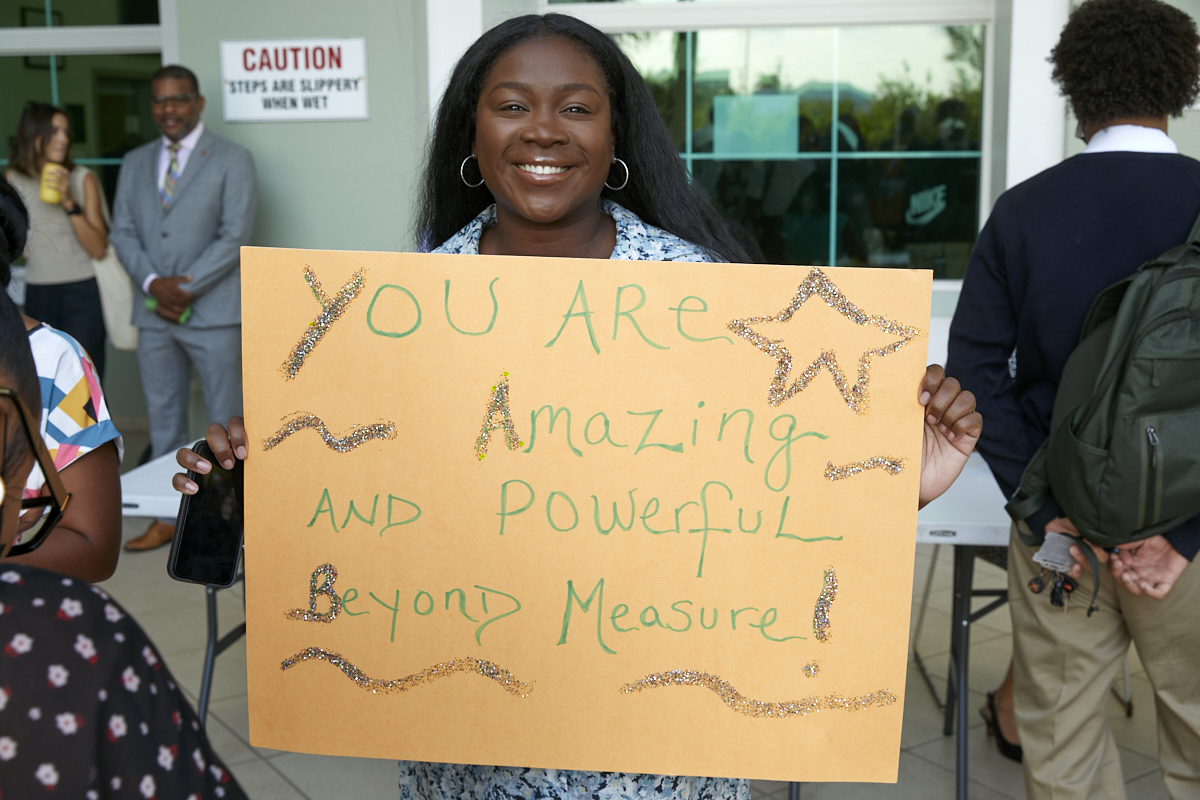 The Future of Learning arrives in Bermuda
Blog | Words Emma Scott | 30 Sep 2022
Supported by Innovation Unit, Bermuda opens its first Signature Schools, offering Signature Learning Programmes which enable each young person to lead personally and professionally, compete locally and contribute globally. With Ministry of Education, Bermuda.
On Monday, September 12, 2022, Bermuda celebrated a new chapter in Education Reform as the country welcomed the first cohort of young people into Signature Schools to undertake Signature Learning Programmes.
Supported by Innovation Unit via the Learning First initiative since early 2020, the Bermudian Government has embarked on an ambitious reform agenda to create schools and a school system where each and every child has great learning outcomes and life opportunities – for them, for the country's economy and for the future of the nation. Signature Schools and Signature Learning Programmes are one key component of these reforms.
"Bermuda, this is the change you have been asking for. Learning that is personalised, flexible, relevant, future-focused, inspiring, and authentically Bermudian This change has been built by us, for us."Minister of Education
the Hon. Diallo Rabain, JP, MP
Back to School 2022/23 Welcome Message from Ministry of Education Bermuda on Youtube.
What are Signatures?
Signature Schools offer Signature Learning Programmes, which blend academics with real-world, project-based learning focused on technical and industry skills within and beyond school. They are based on sectors of the economy and give students the chance to develop industry-connected capabilities alongside their academic studies. For each signature there is a learning programme – a range of learning opportunities – that enables students to develop the skills, knowledge and relationships to follow their passions, build on their talents and achieve their career and further education aspirations.
Signature learning opportunities include:
modules on relevant academic subjects
appropriate practical skills training
individual and group projects focused on real world issues and challenges
authentic, real world learning experiences
effective guidance on careers and further education
relevant accreditation.
Find out more about what they look like in practice on the Learning First website.
Co-designing Signature Learning Programmes with the Bermudian schools and the community
Since 2020, Bermudians have been invited to participate in design teams facilitated by Innovation Unit to develop foundational principles, processes and practices for Bermuda's public school. This included identifying the priorities for school transformation, sharing and critiquing ideas for what a new approaches to schooling and learning might look like, and working alongside system leaders and subject-matter experts to design new curricula, teaching practices, learning environments, graduate outcomes and approaches to teacher professional learning.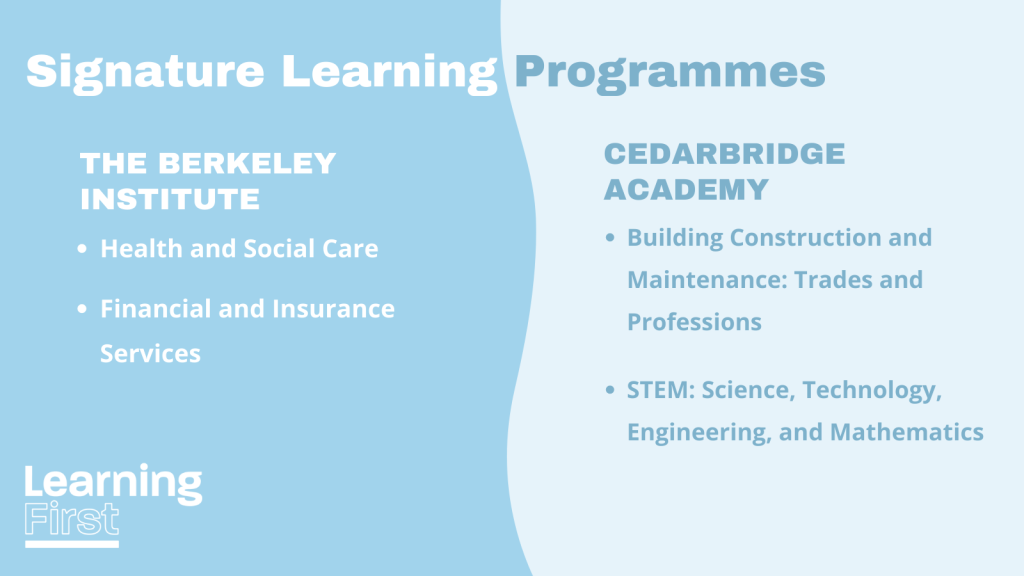 After collaboration with hundreds of educators, parents, young people, community members and business leaders, Bermuda's first Signature Learning Programmes have been established at Cedarbridge Academy and The Berkeley Institute. Both schools offer two unique Signature Learning Programmes in the 2022/23 school year, with further programmes being developed for these and other schools to begin in September 2023.
"Bermuda Public School Students, this Government is committed to ensuring that you and your peers achieve great learning and life outcomes; not only for you but for the benefit of our society, economy, and the future of our nation."Premier of Bermuda
The Hon. E. David Burt, JP, MP
In celebration of this new chapter in learning, the school hallways were lined by students, educators, school leaders, team members at the Ministry and Department of Education, Learning First, and community partners as they clapped in support of incoming students.
Alongside the development of Signature Learning Programmes, Innovation Unit has also been supporting the Ministry of Education to establish Parish Primary Schools which will act as vibrant hubs of learning for Bermuda's local communities, and reorienting the education system itself to better enable schools to meet the needs of their students, families and communities.
To find out more about Learning First and its role in reforming education in Bermuda, visit the Learning First website.
To talk to us about how we support partners to transform complex systems, contact Innovation Unit Australia New Zealand CEO Keren Caple at keren.caple@innovationunit.org.