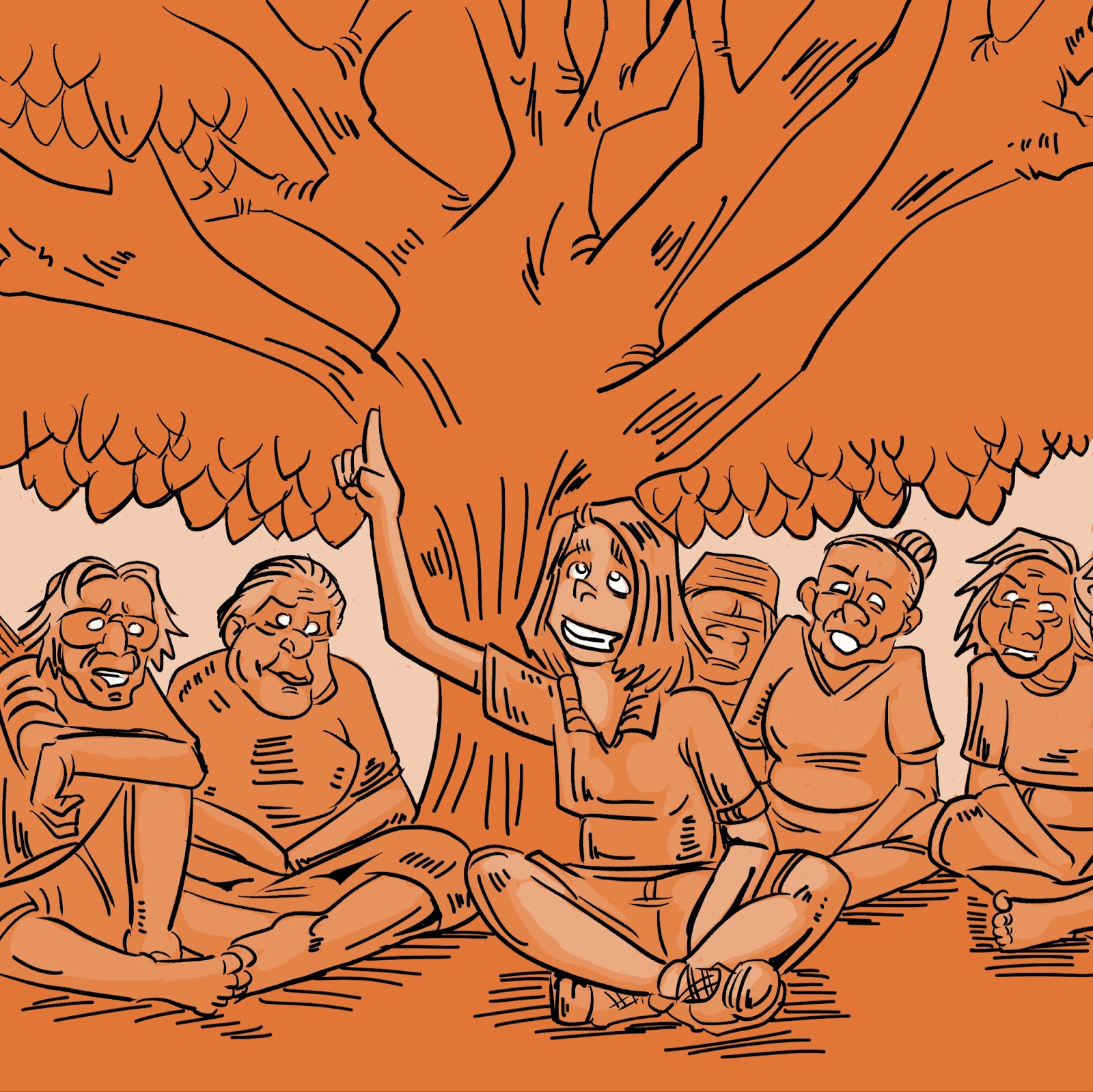 Storytelling Partnerships for Impact
Blog | Words Zoe O'Neill | 23 Nov 2022
"Art, music, dance, story, song"
Seated in a circle, Shaun Nannup reinforced these five mediums to us again, "Art, music, dance, story, song". The five methods of Aboriginal storytelling, that have passed down lore and histories for thousands of years. It was 2021 and I was the director of In Visible Ink – a human rights arts festival, founded by Shaheen Hughes of the Museum of Freedom and Tolerance.
Shaun Nannup, a well beloved Whadjuk Nyoongar man and Aboriginal Elder, leader of reconciliation and master storyteller who stewards people through Indigenous culture, healing and arts was leading our morning session. "Art, music, dance, story, song". The words wrote themselves down and played in my mind over and over.
When we talk about 'storytelling for impact' we can sometimes mistakenly reduce this to 'a great elevator pitch' or salesmanship. We can think of it as conveying a process or an outcome. We run the risk of spending all of our time reporting and negligible time communicating.
Leading a project for Innovation Unit ANZ in the Kimberley region of Western Australia, we saw an opportunity to enhance our work with visual storytelling. With a large Aboriginal population of both service providers and likely service users, we seized the opportunity to utilise art as a medium for communication and expression of ideas.
As part of IU's process, we generated three conceptual service design models, and used A0 renderings of those models to create a 'Walkthrough Gallery' for local service providers, Elders and people with lived experience in the community to react and respond to. While models and diagrams do their best to represent a service, there is always the risk that they continue to look like a mix of shapes and arrows (and stick figures), and fail to capture a real human element. Sometimes we assist this by developing 'personas' of hypothetical service users or staff involved in the service model. Generated from our interview data in the research phase, these Personas can provide a human point of view, and can assist a community's understanding of a model by giving them a 'vehicle' or pair of eyes, to experience the service through.
For our Broome project, we did not use Personas – however, we did recruit the creative talents of Brenton McKenna.
The traditional custodians of the lands upon which we worked in Broome (traditionally known as Rubibi) are the Yawuru people. While working on these beautiful lands we were fortunate enough to discover ESZRA (Aka Brenton E. McKenna) – one of the world's leading First Nations graphic novelists and creative educators. Brenton fell in love with comic books at a young age and later became Australia's first published Indigenous graphic novelist (with 'Ubby's Underdogs: The Legend of the Phoenix Dragon) and one of Australia's first Indigenous artists to have a syndicated daily comic strip in a newspaper ('Ole Champ').
Brenton himself is a Yawuru man, born and bred in Broome with a family of his own, and with an inherent knowledge of the locals, the community and the dynamics of the area. For us, it was a perfect match.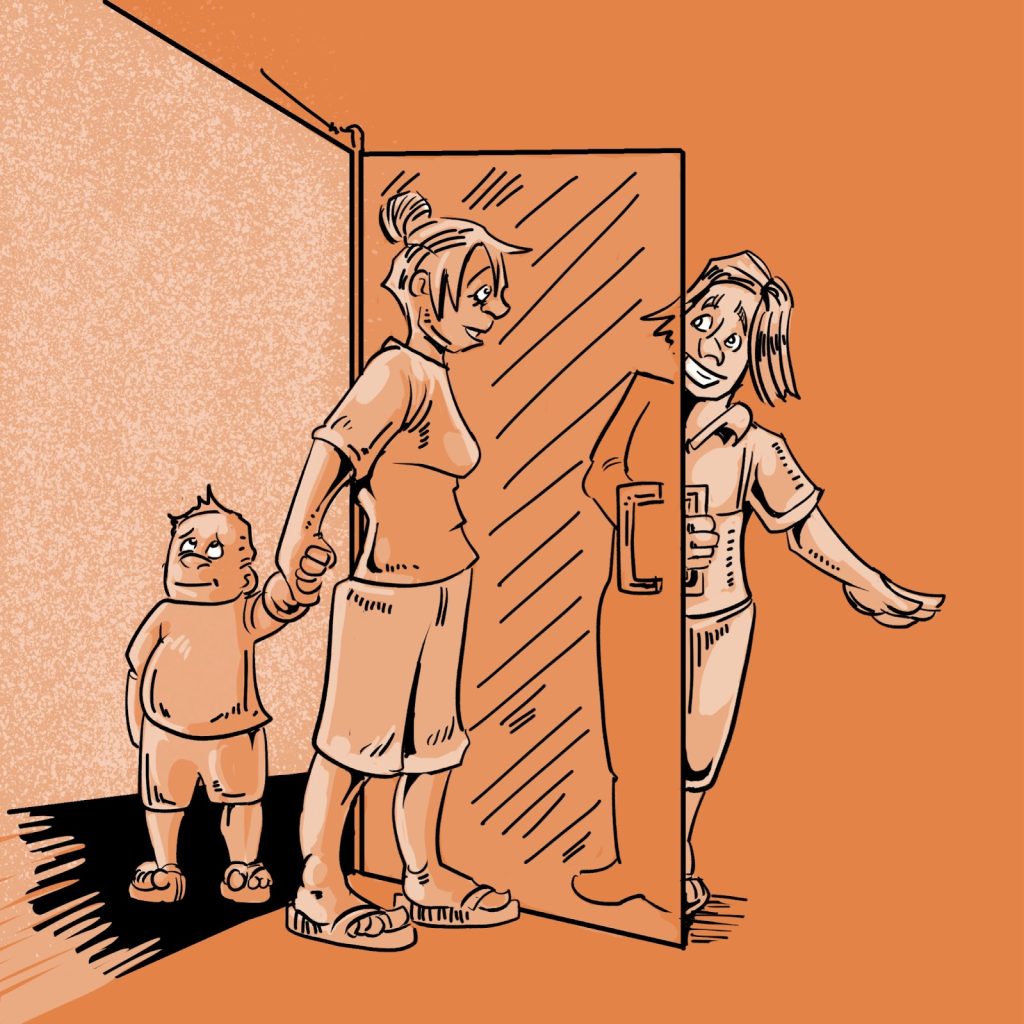 IU worked with Brenton to pinpoint key moments of service provision within our theoretical models and Brenton illustrated comic frames of those moments. For some of the models options key moments remain the same while they diverged at other points. Having a visual 'comic strip' style story with malleable frames enables people to see what a journey or journeys might look like in practice, helps build humanity into the model and gives it a local flavour. We didn't learn until afterwards that certain iconic characters in our comic represented well known Broome personalities – the local nurse who's been around since adults with their children were kids – was there in the medical role in our images. The colour scale, rather than being black and white monoscale – was pindan scale – the renowned colour of the burnt orange soil, synonymous with the Kimberley.
A lot is spoken about deeply embedding yourself in a community to meaningfully undertake innovation work rather than 'parachuting' in. This is particularly challenging somewhere like the Western Australian landscape, a state with the largest landmass of any state or territory in the world – larger than all of Western Europe, and if independent, would be the 10th largest country in the world. The critical issue of meaningful deep engagement and building trusting relationships with regional and Aboriginal communities who have been burned by FIFO consultants before requires thoughtful, considered mitigation strategies. Engaging and partnering with local creatives, with deep understanding of their community and who are skilled at storytelling – through art, music, dance, story, song – is a wonderful way to bridge some of this divide, bring people along on a journey, and communicate a truly impactful story.