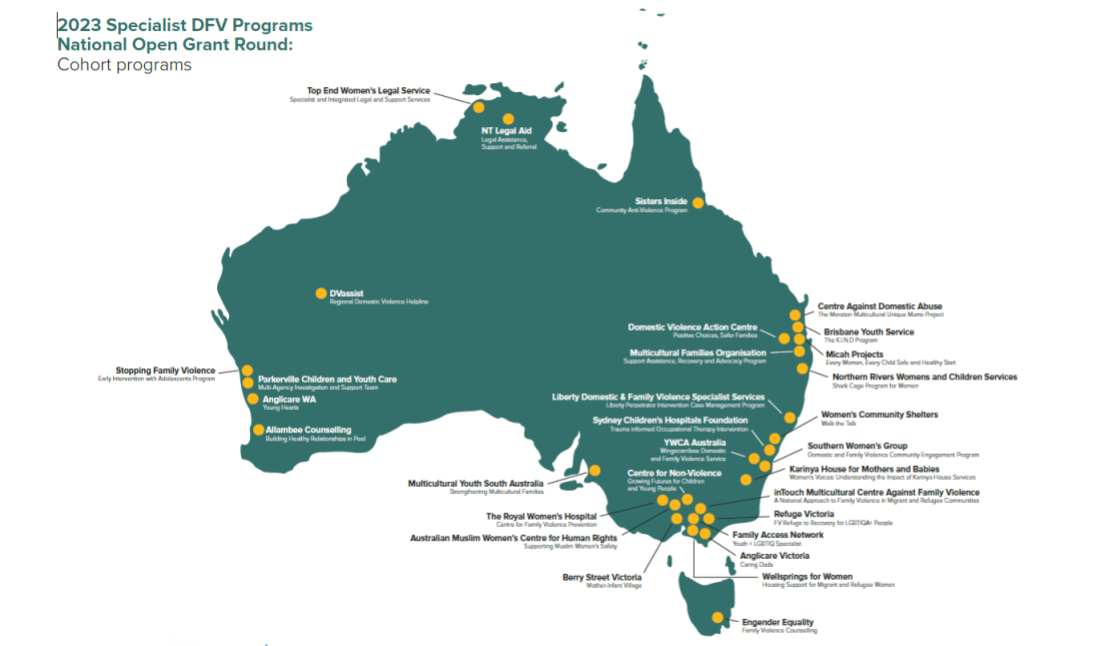 Domestic and Family Violence (DFV) Prevention: Insight gathering with specialist support organisations in Australia
Blog | Words Emma Scott | 09 Nov 2023
Innovation Unit has partnered with Paul Ramsay Foundation (PRF) to generate insights and recommendations for strengthening the specialist DFV support field in Australia.
The Paul Ramsay Foundation (PRF), in partnership with the Australian Communities Foundation (ACF), recently announced a total of $13.6 million in grant funding to 58 organisations who work with groups of people affected by domestic and family violence (DFV) in Australia. Innovation Unit is thrilled to announce that it has also received a grant to act as learning partner to a network of 31 grant recipients to share the current realities, challenges and opportunities experienced by specialist support services as they endeavour to work with people, families and communities. 
Through undertaking research with grant recipients and collaborating as a network, we have an opportunity to make recommendations to governments and philanthropic funders about the systemic moves that could do more to prevent DFV, and reduce the levels of harm it creates. In parallel, ResearchCrowd will convene a cohort of 27 First Nations-led organisations that have received grants from PRF.
"We hope that building this national network of specialist organisations will strengthen the sector and its ability to tackle domestic and family violence through sharing experiences and information"

Jackie Ruddock, Head of Cohorts, PRF
Specialist organisations in Innovation Unit's cohort include those who support children and young people, migrant and refugee women, rural and remote communities, pregnant women, LGBTIQA+ communities, single mothers, women with a disability, and perpetrators and users of violence. 
Given the growing prevalence and complexity of domestic and family violence in Australia, research and engagement with specialist DFV organisations is a rare chance to generate critical insights around what it takes to deliver holistic, coordinated and integrated, person-centred responses for those who face the greatest barriers to seeking help. We have already heard from the cohort of participating organisations that they are excited about the opportunity to connect with and learn from their peers in different parts of the country, build a collective body of knowledge about DFV in Australia, and have their experiences contribute to a movement towards better understanding of and response to their clients' needs.
More information about the Specialist DFV Programs National Open Grant Round, including a full list of grant recipients, is available on The Paul Ramsay Foundation's website here.