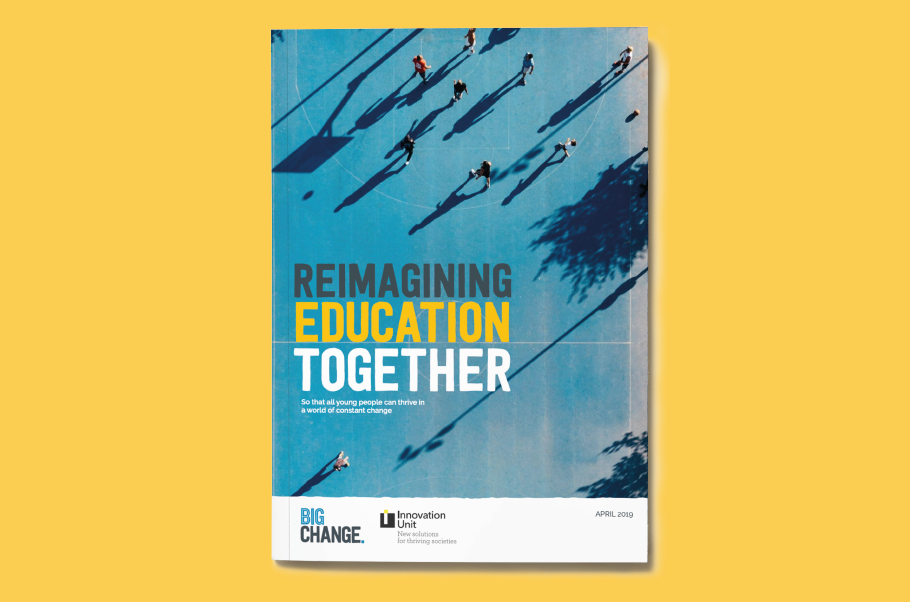 New research helps reimagine education
News | 02 May 2019
PRESS RELEASE: Seven in ten teachers say they wish schools were preparing students for more than just exams. New report on reimagining education launched by charity Big Change and Innovation Unit.
A survey out this week shows parents, pupils and teachers all agree there now needs to be a significant shift in the education system, as charity Big Change and the Innovation Unit release a new report on reimagining education – with Andreas Schleicher, Director of Education at the OECD, stating current education systems leave 'teachers, students and parents feeling disempowered.'
Survey data from YouGov and TeacherTapp shows that teachers, students and parents want less focus on cramming for exams:
84% of teachers think school is preparing children for exams, but three-quarters of all teachers wish this wasn't the main focus.
6 in 10 (60%) of all children aged 11-18, and half (50%) of parents of children aged 11-18, want schools to focus on more than passing exams.
Teachers, parents and students all wanted to see more focus on preparing young people for the future and helping them to become good citizens:
Teachers (84%) and almost two-thirds of children aged 11-18 (65%) wish that education did more to help students learn about making a positive difference to society and the planet.
Parents wish that schools would prioritise helping students find what they are passionate about (32%), improve their communication skills (42%) and learn about the environment – a far cry from what they feel schools do best, which is preparing them to pass exams.
Almost two thirds (64%) of teachers wanted education to prioritise helping students get the job they want.
Students wanted to see a shift in how they learn, beyond the traditional classroom setting:
Students aged 11-18 feel they learn well when interacting with their peers (76%) and with other adults outside of school (40%) – yet this is not the norm in our education system.
The survey shows widespread acknowledgement that our education system needs a significant change: but currently that change is not coming.
The survey also revealed half of parents (50%) and almost three-quarters of teachers (71%) thought the Government had the most power to reform education positively. The survey results come at a time when politicians are being accused of being distracted by Brexit, with very little meaningful change to education policy in recent years.
The new report from Big Change and Innovation Unit demonstrates how important it is for parents, teachers and pupils to be brought along, as well as the communities around them.
The 'Reimagining Education Together' report highlights twenty examples from across the world of pioneers who are making change happen in their schools, communities and on a broader scale. They show how businesses, parents, governments and whole communities can come together to reimagine education and take learning beyond the classroom.
Case studies of this change can be found here.
Essie North, CEO of Big Change, said: "How we approach education – what we prioritise, how we learn and who we value – sets the tone for many patterns throughout society. Yet it is often seen as someone else's problem, something too entrenched to change, or simply just the way things are done.
"Through exploring global bright spots of change we have seen that the journey to reimagining education starts with people from across the education ecosystem who are not prepared to accept the status quo.
"They question not only the process but also the purpose of education. They have the vision to look at what we collectively need for the long term. The courage to start the journey when there isn't a road map. And the humility to recognise that it can't (and shouldn't) be done alone.
"We hope this report reawakens the potential in each of us to play an active role in how we lead change and support the next generation."
Andreas Schleicher, Director for the Directorate of Education and Skills at the OECD, said: "This report from Big Change is an important contribution to the urgent debate on the need for change in our education system.
"Where systems don't involve actors like parents or teachers in the design of change, they are unlikely to help you with implementing it. That is why educational leaders are rarely successful with reform unless they build a shared understanding and collective ownership for change, and unless they create accountability measures designed to encourage innovation rather than compliance.
"The exam system in the UK, in particular, is not currently doing this, and teachers, students and parents feel disempowered. This report should lay the foundations for us to give everyone in the system the tools to effect the change we need."
Krista Cartlidge, a teacher from Bournemouth: "It is difficult to imagine an education system in which 'every young person is set up to thrive', but achieving the goals suggested in this report would have huge society-wide implications: a change so exciting that it is almost difficult to imagine.
"This requires a systematic change in the way we think, which will need to be fully supported by the wider community, particularly business leaders.
"This report demonstrates just how powerful it is when different stakeholders come together to articulate their ideas on the purpose of education and how it can be achieved."
Holly Branson, Leadership Team Virgin Group and Co-Founder Big Change, said: "The findings that young people, parents and teachers all agree that more should be done to help students learn about making a difference in society is not surprising.  School should be a time for self-discovery, building resilience and becoming fully-rounded individuals who can make a positive contribution to the world.
"However, our current system fails to nurture and prepare the 'whole' child for our rapidly changing world, concentrating instead on highly-pressured test-based curriculum that cares more about league tables than it does the creation of a thirst for knowledge.  We need a seismic shift throughout the entire learning ecosystem. We need to nurture students, embrace their natural curiosity and recognise their individuality."
Lord Jim Knight, Chief Education Adviser at Tes Global and former Minister for Schools and Learning, said: "This report should be an urgent wake-up call to ministers and all of us in Parliament.  I urge leaders from all sectors to learn from the amazing stories of changemakers it tells.
"We are living in a time where there is an urgent need for change in how we educate our societies – we can see this in the climate of division, the fear about job opportunities, the scale of the problems we face, from climate change to democracy, and the increase in mental health crises.
"But this is also a time of great opportunity – employers, politicians, young people and parents are desperate for solutions to address these things. Reimagining education is the answer to the questions all parts of society are facing."
Download the report: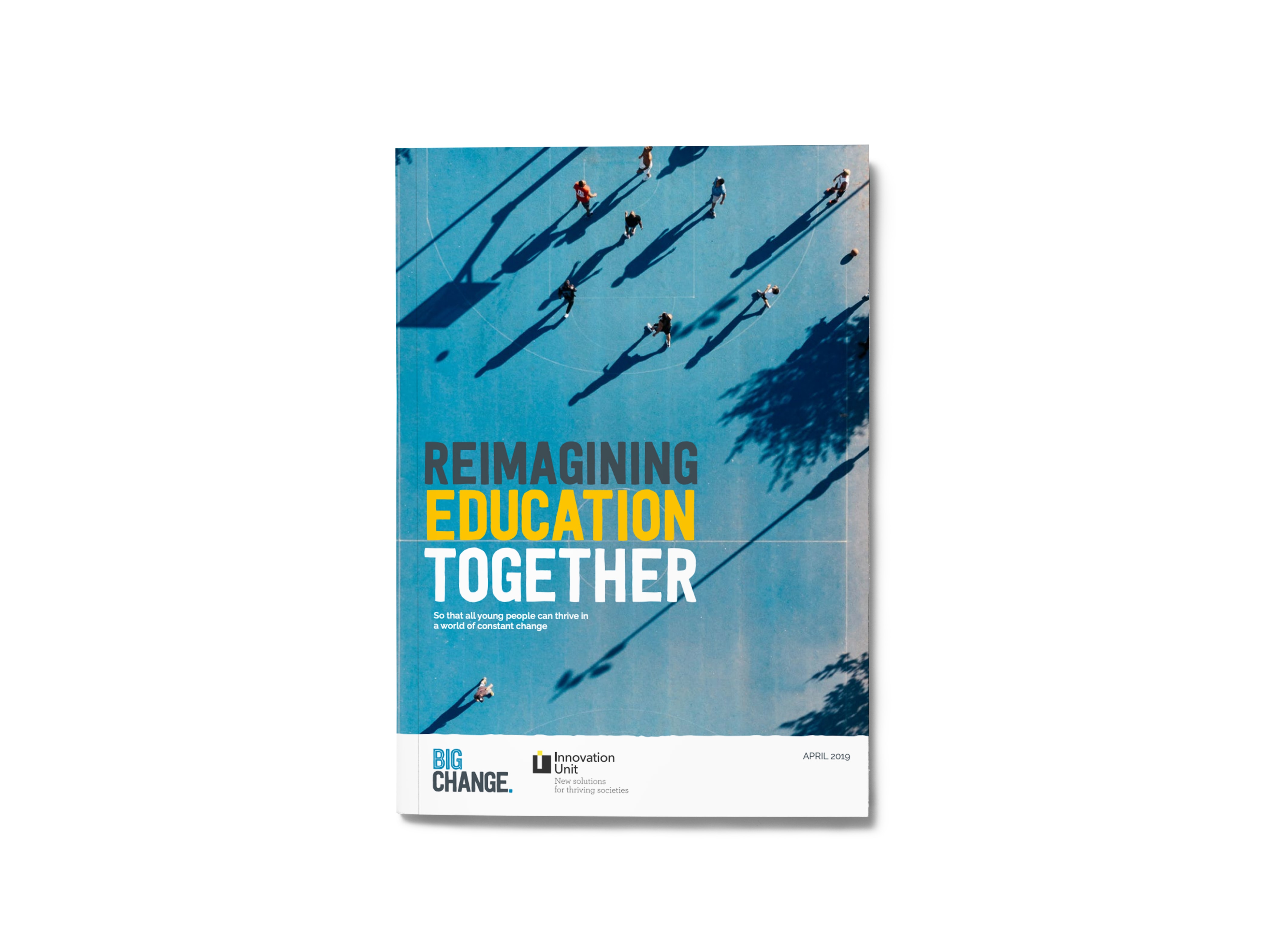 —
Notes to Editors
ABOUT DATA
TeacherTapp: All teacher data was gathered by Teacher Tapp with a sample size of 3200 teachers across primary and secondary education.
YouGov: All children's and parent's figures, unless otherwise stated, are from YouGov Plc.
Parents
The total sample size was 1017 parents with children aged 18 or under, of which 512 have children aged between 11-18. Fieldwork was undertaken between 9th – 11th April 2019.  The survey was carried out online. The figures have been weighted and are representative of all GB adults (aged 18+).
Children
The total sample size was 1069 children aged 11-18. Fieldwork was undertaken between 5th – 11th April 2019.  The survey was carried out online. The figures have been weighted and are representative of all GB children (aged 11-18).
About Big Change:
Big Change is reimagining education to see a society where we work together to support all young people to thrive. Through project partners, we target our support in the most critical opportunity areas by finding and backing the big vision leaders and ideas to help them prove that a new way is both possible and powerful. Around this, Big Change activate a network of people and organisations who power the change we want to see through individual effort and collective action. www.big-change.org
About Innovation Unit:
Innovation Unit is a social enterprise based in the UK, Australia and New Zealand. We work internationally, applying disciplined approaches to develop new solutions to social issues and create impact at scale. We are outcomes and impact focused. We work with our partners and clients to deliver the real and measurable changes they, and we, want to see in the world. Through our projects and ventures, we identify, create and scale evidence-based solutions, mainly focused on: children's social care, learning and schools, healthy lives, early years and mental health.www.innovationunit.org
About Reimagining Education Together:
The report explores the growing evidence for why change is needed, the consensus building around what positive change looks like, and a new human-centred vision for how change can happen at a school, city and national level. These emergent insights draw on interviews with cross-sector leaders and pioneers on the need for transformative change in the education system.
More information on all the pioneer stories, plus school/teacher/pupil case studies, and interviews with all the commentators above are available. Please contact Heather Vernon, Education and Advocacy Specialist at Big Change on 07747 097821 or on heather@big-change.org