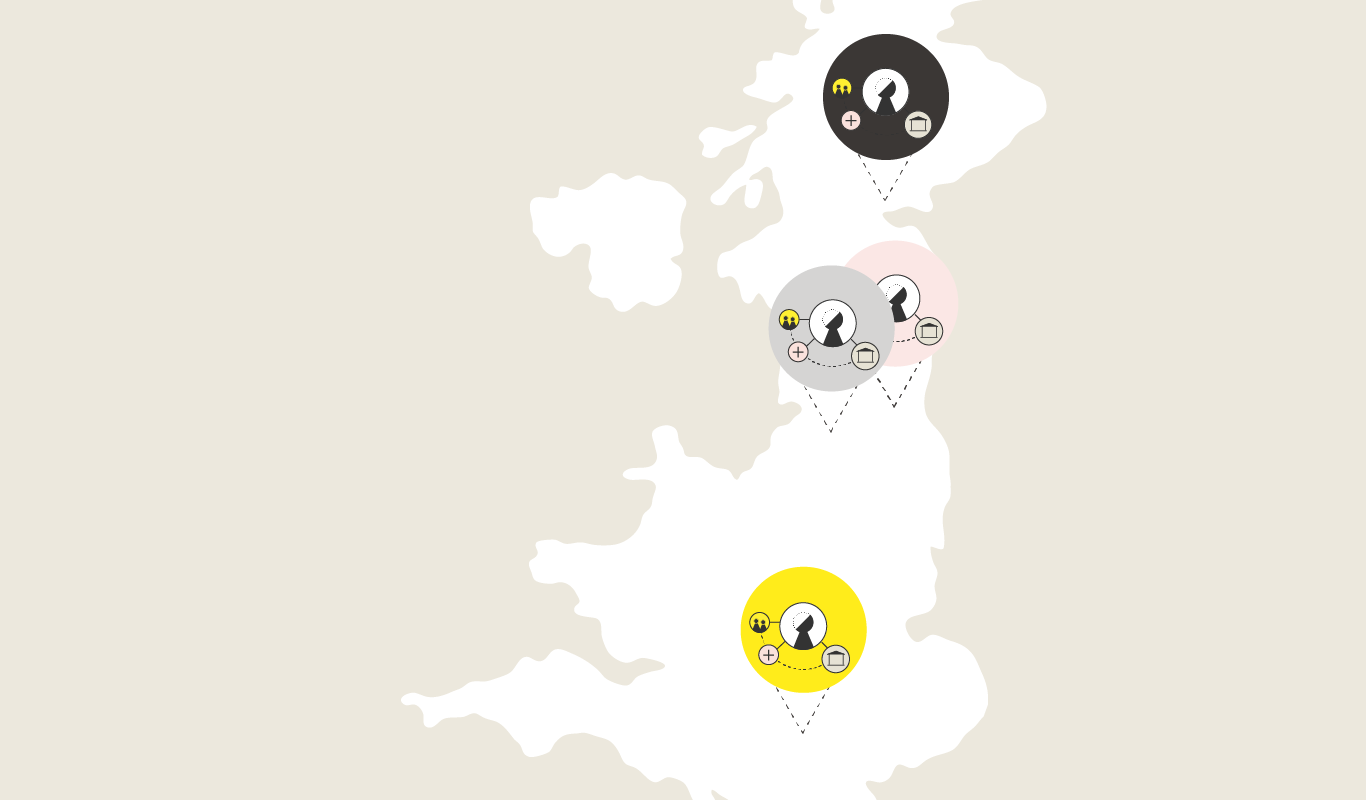 Living Well UK programme announced
News | 20 Sep 2018
PRESS RELEASE: New Living Well UK programme will take innovative approach to improving mental health to four new areas thanks to £3.4 million in National Lottery funding.
Living Well UK is a three year programme that will create new approaches to mental health support across the UK, inspired by a model developed in Lambeth, South London.
The 'Living Well' model first launched in 2010 as an approach to mental health care that has changed the way the voluntary and public sectors work together so that the right support is available to people when it is needed.
Since then it has made a significant impact to people's lives, helping them get support within the community earlier and also involving them in the design of the support they need for the future. This new integrated way of working has reduced the number of people going into residential care by 43% and saved almost £2.5m by offering support that focuses on recovery in the community rather than residential or inpatient provision.
The Living Well UK programme has been awarded £3.4 million in National Lottery funding over three years to support new local partnerships in Edinburgh, Luton, Salford, and Tameside & Glossop to develop their own version of the Lambeth Living Well approach.
It is hoped that, through the programme, the support available in these areas will become internationally recognised examples of an innovative way to help people achieve good mental health in community and primary care settings. The work they do will have the potential to be taken up across the NHS in the UK, transforming the support currently offered by GPs and community and mental health teams.
Living Well UK is funded by the Big Lottery Fund, the largest funder of community activity in the UK. It will be managed and delivered by Innovation Unit, a social enterprise that supports innovation in mental health. The four locations will receive grant funding over three years alongside tailored support from those involved in setting up the Living Well approach in Lambeth, the mental health team at Innovation Unit and from an independent evaluator.
"This is an amazing opportunity to apply the learning from an innovation that has been shown to have an impact. It has transformed access to mental health support, people's experience and their wellbeing. It has also reduced the demand for high cost NHS services.

We are privileged to be working with a group of ambitious partners in Lambeth, Edinburgh, Luton, Salford and Tameside and Glossop, who are all committed to taking this innovation to scale in order to achieve better outcomes for more people who experience mental ill-health. Thanks to National Lottery funding, this approach will be developed across the UK."Matthew Horne, Chief Executive of Innovation Unit

"The Living Well model places people with personal experience of mental ill health at the heart of its work, ensuring their voice is heard in order to shape support for others. This National Lottery funding will enable this approach to grow across the UK so that local partnerships are able to work together to deliver real, effective change for the people in their communities."Joe Ferns, UK Funding Director at the Big Lottery Fund
—
Additional information
About the organisations involved in the Living Well UK programme
Innovation Unit
Innovation Unit is a social enterprise based in the UK, Australia and New Zealand. We work internationally, applying disciplined approaches to develop new solutions and create impact at scale. Through our projects and ventures we identify, create and scale evidence-based solutions, mainly focused on: children's social care, learning & schools, healthy lives, early years and mental health.
Innovation Unit is managing the Living Well UK Programme which is funded by the Big Lottery Fund. Innovation Unit will:
Provide innovation coaching to each of the four sites, supporting them to design and develop their own Living Well system

Support the four sites learn to from each other

Share learning from the programme with UK stakeholders (including senior leaders, commissioners and innovators)

Ensure the programme is properly evaluated
Big Lottery Fund
Big Lottery Fund uses money raised by National Lottery players to help communities achieve their ambitions. From small, local projects to UK-wide initiatives, its funding brings people together to make a difference to their health, wellbeing and environment. Since June 2004 it has awarded £9 billion to projects that improve the lives of millions of people.
Its UK Portfolio supports UK-wide projects to test and grow bold ideas that put people in the lead to address long-term social issues and improve the quality of life across the UK and internationally.
The Big Lottery Fund will monitor progress for the programme against agreed outcomes and help to share learning with other projects that it funds.
Lambeth
The Lambeth Living Well Alliance is a partnership of five organisations: Certitude and fellow voluntary sector provider Thames Reach, the South London and Maudsley NHS Foundation Trust (SLaM), Lambeth Clinical Commissioning Group (CCG) and Lambeth Council.
Leaders and practitioners from these organisations in Lambeth will be a key part of the programme – sharing their experience, expertise and learning with the four sites, including in areas such as frontline practice, co-production, commissioning and collaborative leadership.
Adoption sites:
Edinburgh
Edinburgh want to harness the UK Living Well programme to develop open access mental health hubs across the four localities covered by the City of Edinburgh Health and Social Care Partnership. They want to address the wider determinants of mental ill health (including poverty, income inequality and social exclusion), improve urgent response and develop safe places which help minimise hospital admissions. Key local leaders who will help drive the creation of a Living Well system include: Maria Arnold, Development Worker, Edinburgh Voluntary Organisations' Council (EVOC), lead for mental health and co-chair of the local Mental Health Forum for third sector providers, and Linda Irvine-Fitzpatrick, Strategic Lead for Mental Health and Wellbeing in Edinburgh.
Luton
Luton wants to create a new front door to mental health support that transforms people's lives and helps reduce demand on secondary care. Involvement in the programme will be led by key local organisations including: Mind BLMK (mental health charity and provider), Turning Point (providing the Total Wellbeing Luton service/primary care mental health), Luton Clinical Commissioning Group, Luton Council and, East London Foundation NHS Trust (provider of secondary mental health services).
Salford
One of ten Greater Manchester boroughs, Salford wants to enhance mental health support provided by integrated neighbourhood teams and in so doing reach significantly more people and improve their mental health outcomes. Involvement in the programme will be led by Salford CCG in partnership with Start in Salford (creative arts and wellbeing charity), VOCAL Health and Wellbeing (a forum of voluntary sector health and social care organiations led by Salford CVS), Six Degrees Social Enterprise (mental health services and training provider), Greater Manchester Mental Health NHS Trust (mental health services provider) Salford Royal (acute care provider), Salford Council, and Salford Primary Care Together (primary care providers).
Tameside and Glossop
One of ten Greater Manchester boroughs, Tameside and Glossop wants to transform mental health support towards early intervention and prevention, supporting people to live at home and ensuring delivery of high quality and sustainable services. Creation of a Living Well system will support their residents to get and keep well by strengthening personal sense of meaning, close interpersonal relationships, and social integration. Involvement in the programme will be led by key local organisations including: Action Together (the local voluntary sector umbrella body supporting an estimated 2,180 groups and 50,000 volunteers), the Clinical Commissioning Group and local authority, and Pennine Care NHS Foundation Trust.
About the Lambeth Living Well approach
The Living Well UK programme has been inspired by the radical transformation of mental health services in Lambeth, south London, towards a 'Living Well' system. Over the last seven years, local partners have worked together to help people who experience mental health difficulties recover, stay well, make their own choices and participate on an equal footing in everyday life. Commissioners, providers, clinicians, service users and community representatives formed a collaborative that has created new ways of commissioning, contracting and delivering support. As a result, many more people get help when they need it in both primary and community settings.
More people are getting support, with on average 500 people supported each month, whereas previously only those eligible for input from secondary care would have received help.

Waiting times for support have been reduced from within one month to now within one week.
Referrals to secondary care teams have reduced by 25%
The average (mean) cost per person receiving support was £103, which indicates that the approach is likely to provide a comparatively low cost (and high volume) way of freeing up resources in local secondary care services.