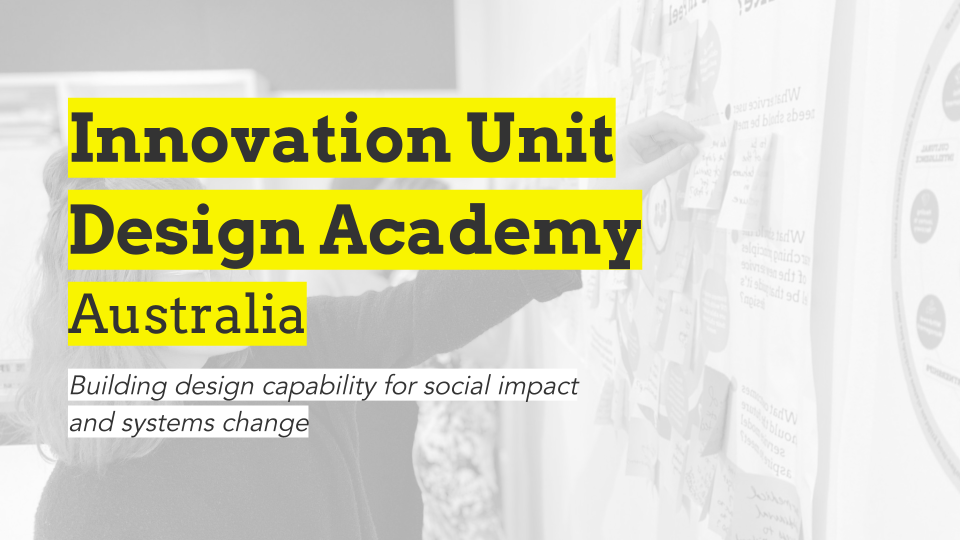 Innovation Unit Design Academy Australia
Blog | Words Jethro Sercombe | 08 Nov 2023
The Innovation Unit Design Academy Australia is officially accepting applications to join our 2024 cohort!
About the Innovation Unit Design Academy Australia
The Innovation Unit Design Academy (IUDA) is an 8-month, project-based program, which supports organisations, leaders, and practitioners, to deliver real world innovation projects and grow their design capability for social impact and systems change.
Facilitated by our team of experienced Social Innovation Practitioners, the Design Academy runs as an online program with fortnightly workshops, regular coaching sessions, and peer-to-peer meetups, alongside a cohort of like-minded professionals and organisations.
Why join?
Our Design Academy welcomes professionals from a wide range of sectors, including non-for-profits, government, and social enterprise, who choose IUDA for its practical teaching from experienced practitioners, connection with a diverse cohort, and the chance to directly apply skills through real-life projects.
"It has been a great team building process, we now all talk a similar language and have a new set of shared experiences to draw on when we are considering innovation and service design."

IUDA 2023 participant
The Design Academy program will focus on developing knowledge and expertise design methodology as applied to complex social issues and systems change, as well as building wider design skills and creative confidence.
The program structure uses a parallel learning and project journey, coaching you through a real world project identified as a priority of your organisation. Each phase is designed to help your team learn key design skills, from discovery through to implementation, and to apply these directly into practice.
"If you're looking for a program that provides a practical opportunity to apply design skills to a social challenge, that can be completed in one year, with a deeply committed and highly knowledgeable teaching team that do this work in the real world – this is the right program for you."

IUDA 2023 participant
For more information on program content, the learning journey, pricing, and the application process, see our IUDA Australia Program Brochure.
How to join
Expressions of interest are now open, until the 6th of December 2023. Places are limited and EOIs are reviewed on a rolling basis so fill in the form ASAP to secure your spot.
If you have any questions on the Design Academy, please let us know. We can have a chat with you before you fill in your Expression of Interest, to help you think about the type of projects best suited to bring to IUDA, as well as how to form a team within or across organisations.
For any questions, contact Jethro Sercombe, Director of Innovation Practice at jethro.sercombe@innovationunitanz.org
We are able to bring IUDA to WA participants at a discounted rate thanks to the Catalyst funding received through Spacecubed' Innovative Society Initiative, supported by Lotterywest. Catalyst supports new or expanded initiatives that strengthen, progress or grow WA's innovation ecosystem.