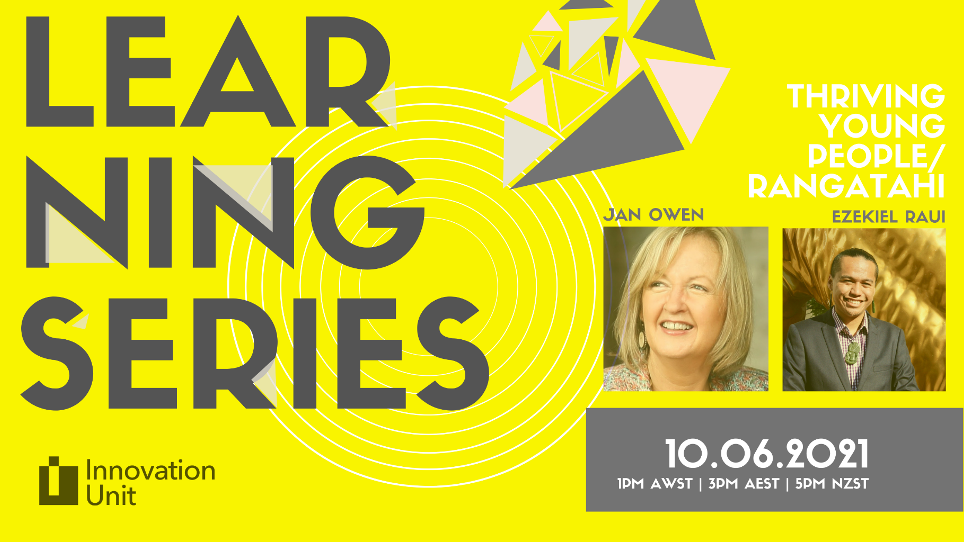 IUANZ Learning Series: Insights on Thriving Young People/Rangatahi
Blog | Words Kaci Oliphant | 18 Jun 2021
Our young people are facing an uncertain future, and the context in which young people today are gaining an education and entering the workforce is significantly different from past generations. The future state of education and employment must transition to adapt to these circumstances, and meet the challenges that young people are disproportionately facing.
On 10 June 2021, Innovation Unit ANZ hosted the first event of our three-part Social Innovation Learning Series. Focused on the theme of 'The Future of Work and Education for Thriving Young People/Rangatahi', we invited our local community of practice across Australia and New Zealand to have a conversation and open their minds to new perspectives on this potential challenge and what the future may hold. We invited two keynote speakers, Jan Owen and Ezekial Raui, each bringing their own wealth of knowledge and expertise to the topic. Effortlessly engaging and inspiring in their passion, Jan and Ezekiel provided us with two distinct interpretations of the topic, drawing from their unique individual contexts and experiences.
At the end of our workshop we asked participants to draw upon what they heard in the presentations and discuss the design principles that they think should define and inform our innovation practice when considering the future state of work and education for young people. The following word cloud represents this discussion and the key insights that arose.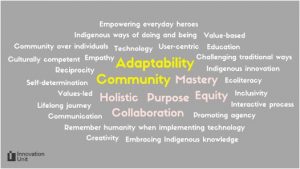 3 KEY THEMES:

ADAPTABILITY
Adaptability has been identified as an essential skill for young people as they face new challenges and shifting expectations. As we move through the 21st century, Jan strongly believes that one reality we need to accept, and embrace,  is the idea of 'career portfolio' whereby the average 15 year old is expected to have 17 jobs across 5 different industries throughout their careers.
"The idea of a job you have for life and is secure has absolutely and categorically disappeared." – Jan Owen
This reality has resulted in a shift towards 21st century skills, including digital literacy, creativity, collaboration, critical thinking and cultural competence. This shift better prepares young people for an uncertain future by arming them with transferable skills and the ability to adapt to rapidly changing circumstances. Ultimately, we are refocusing on the person, instead of the profession.
Ezekiel draws on this idea when he describes coming from humble beginnings as a privilege, because his family instilled in him the values of believing in himself and his dreams; maintaining confidence, a connection to self and remembering where he comes from. He placed value on teaching young people to be strong and competent individuals, empowering them with knowledge, instead of preparing them for what we imagine the future of work and education to be.
"[The education system] adopts a colonial mindset, in this idea of preparing people for a particular workforce as opposed to being thriving individuals – strong, competent individuals who are confident in what they do." – Ezekiel Raui
He also advocates strongly for engaging with Indigenous knowledge and its integration into our current education system. The future of education is one that has evolved to be able to not only cater to changing social trends, but also to lead the way in which information should be shared.
Acknowledging the disruption and dismissal of over 60,000+ years of First Nations knowledge and experience including embedded rituals and practices, storytelling, and cultural learning in Australia, Jan reinforces the inclusion of Indigenous learning whereby Indigenous students will be both inspired and captivated to learn as they see themselves reflected in all aspects of the school curriculum and infrastructure. Likewise, social and cultural reconciliation between Indigenous and non-Indigenous people will increase as First  Nations ways of knowing, learning and being are shared, celebrated and adopted.

PURPOSE
With an increasing focus on inequality and inequity in the world, purpose has become a key theme in the future of work and education. Jan acknowledges this by describing the emergence of Generation Z as what she terms 'the purpose generation.' There has been a massive increase in social activism and entrepreneurship across the globe, and a shift in focus. Jan states:
"Young people nowadays involved in entrepreneurship have a strong focus on people, planet, purpose and then profit. In that order." – Jan Owen 
 A focus on 'purpose' is having an impact on businesses. For previous generations business was perceived as 'a big part of the problem'. However, today, 97% of Generation Z demand that businesses be part of the solution. Jan comments that given their increased access to tools such as social media, young people have greater power than ever before and are also more likely to be involved in collective action. In addition, employers are facing a generation of increasingly vocal young employees with the belief that:
"I'm not going to be with this business for the next 20 or 30 years, so I feel fairly comfortable calling out issues that aren't aligned ethically, socially or environmentally."- Jan Owen  
COMMUNITY
Community is being reimagined globally as a result of covid, both the challenges and opportunities. Young people are the heartbeat of our cities with different views around the way we should think about and utilise our spaces with those around us, where:
"What it means to regenerate your neighbourhood, your community, your suburb, and your city, is very powerfully front of mind for young people around the world." – Jan Owen
Finally, while changing the world is a goal at the forefront of many young people's minds, Ezekiel made sure we did not undervalue change in the household and our local contexts. He left us with this important and thought-provoking idea, one we would like to leave you with:
"When I think of thriving rangatahi [young people], I think about teaching them their value. The role they play in shaping society. The role they play in gaining an education, whatever that may look like. The role they play in the household. Someone who is rooted and grounded in their value can do nothing less than contribute positively to the world. " – Ezekiel Raui 
THE BIG CHALLENGE
In a changing world, young people themselves are demanding education and work systems that focus on adaptability, purpose and community – it begs the question about how our systems might adapt. Stay with us for Part 2 of this blog where we highlight those who are beginning to adapt systems for those purposes.
THE NEXT EVENT
We want to thank everyone who attended the Learning Series, for connecting with us and fully engaging in some insightful and inspiring conversations about thriving young people/rangatahi. If you missed out, do not worry! The IUANZ Social Innovation Learning Series is a three-part event. Our next online session, will focus on the topic of thriving families/whānau, will be held in September 2021. Keep an eye out for the event details, date and speaker announcements on our social media channels:
#IULearningSeries