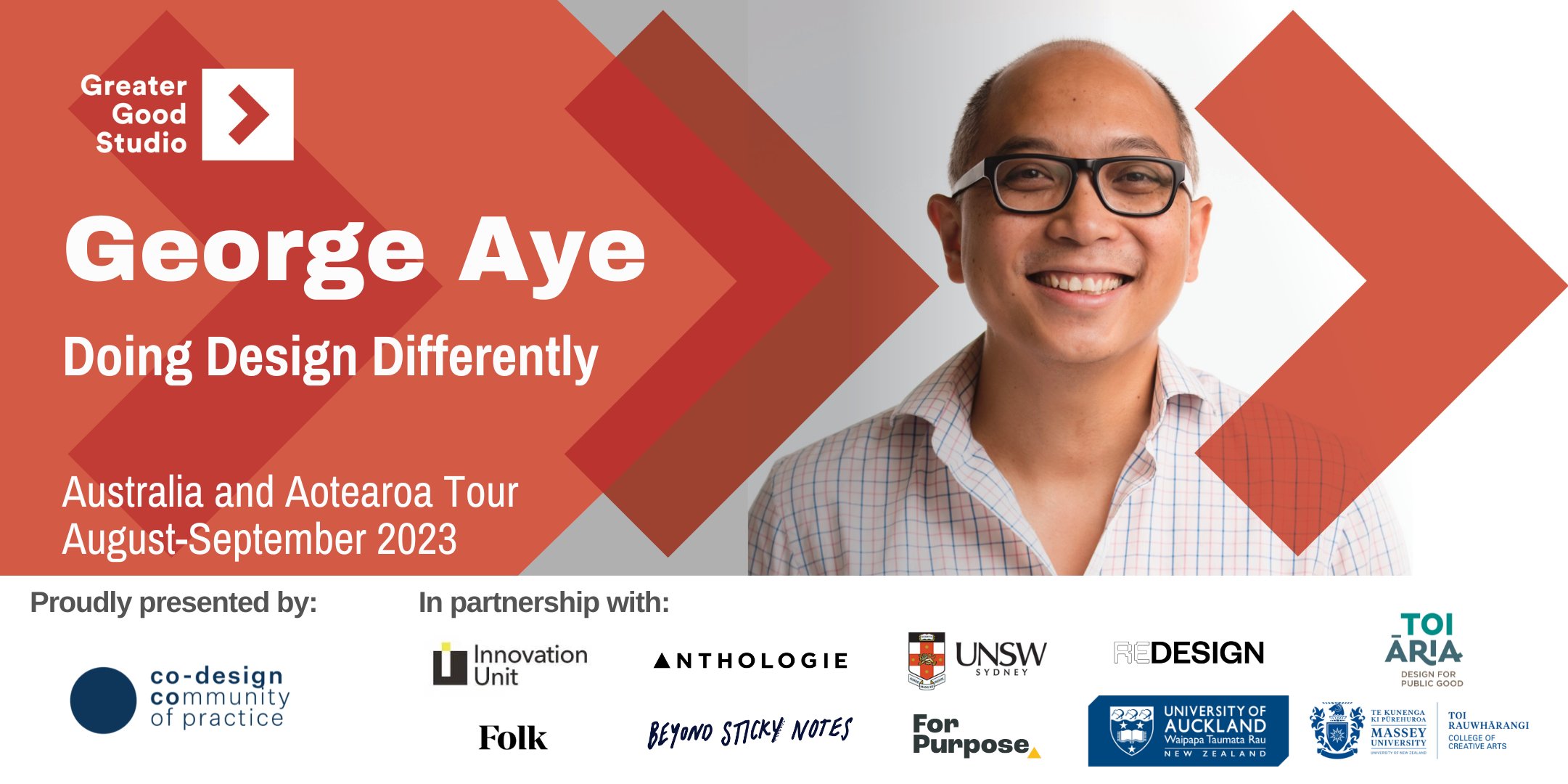 George Aye: Doing Design Differently
News | Words Kaci Oliphant | 15 Aug 2023
Taking place across Australia and Aotearoa in August and September 2023, the Doing Design Differently tour invites design practitioners, leaders, academics, and students to engage critically and constructively with questions of power and ethics. ⚡
This is a five-city event series where George Aye will join leading design practitioners, academics, and supporters local to each context will host conversations on how we can use design to push back against the status quo. 💡
Join us as we try to change how design happens in this part of the world: how design work is commissioned, who gets to be a designer, how we can shape the conditions and outcomes of our projects, and where the benefits and damage of design land. 🤝
Find out more and register for events at 👉 https://codesignco.space/design-differently 
As well as supporting the tour, Innovation Unit are co-hosting the events in Perth and Melbourne. See below further information about these and book through the links provided. 
💡 Panel: Using Design for Good
Tuesday 29 August 2023 at 5pm | North Metropolitan TAFE, Perth WA
Alongside George Aye, we will also hear from local champions of designing 'for good' within the Perth community. The event will feature a visual showcase of local case studies with the opportunity to ask your burning questions. A keynote presentation and panel will be followed by a sundowner, the chance to connect with others over light refreshments.
https://events.humanitix.com/using-design-for-good-with-george-aye 
🧠 Gut Check Workshop
Monday 4 September 2023 at 2pm | Melbourne Connect, Carlton VIC
This interactive workshop is for designers and leaders who want to make wise decisions about their careers and projects. Identify your power and build up your confidence to be the best judge of your boundaries. By the end of the session, you'll start to develop your own 'Gut Check' questions to protect yourself and others from future harm.
https://events.humanitix.com/doing-design-differently-melbourne