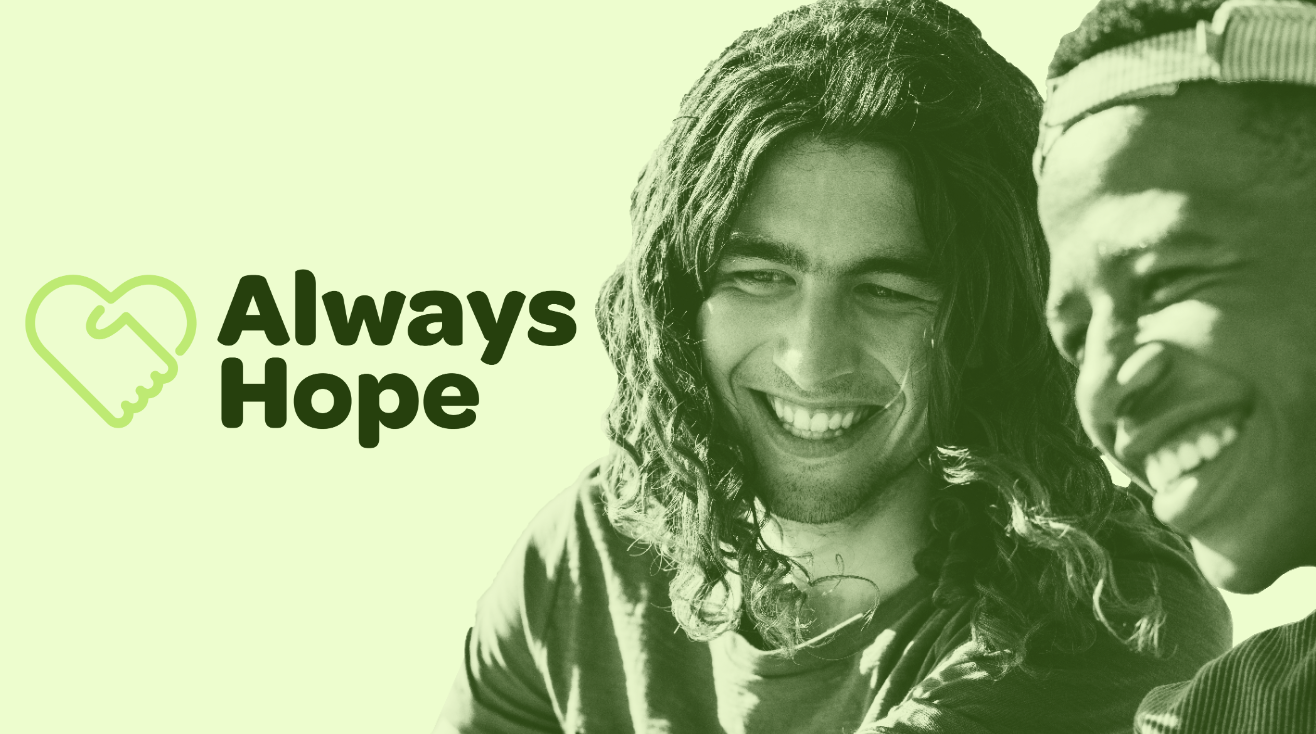 Always Hope: Transforming the lives of care experienced young adults in the UK justice system
Blog | Words Frances Flaxington | 25 Oct 2023
"I feel so much better now that I've met people who care as much as I do, we've all got one main goal!"Practitioner at HMP Brinsford
Care experienced young adults (18-25 years old) are over represented in the prison system; approximately 25% of all adult prisoners have had experience of care, compared to 1% of the general population.
Since 2017, Innovation Unit has been shining a spotlight on the additional challenges facing care experienced young adults given prison sentences, and testing what could help them to thrive following release.
The result is the Always Hope offer – co-designed and piloted with a committed and passionate group of national and local statutory and voluntary sector partners in the West Midlands, including care experienced young adults serving prison sentences at the time. The model is focussed on offering support for the young adult, from both the professionals working with them and their personal support networks, in ways that are integrated and sustainable. This allows the young adult to understand what sort of support they can receive and from whom. 
The charity Family Rights Group is a partner in the Always Hope project, supporting in the development of personal support networks. They co-created the Lifelong Links approach with care experienced young people and it is specifically designed so that trained coordinators work with, and for young people to find relatives and others who care about them, in order to build a lasting support network that they can turn to emotionally and practically. Family Rights Group supports local authorities to offer a Lifelong Links service.
Throughout the pilot, we have listened to what has worked and adapted the model to create best practice. This has resulted in the creation of our Handbook and Manual to assist Local Authorities, Prison, Probation and other partners to adopt these collaborative approaches.
The Past
"A lack of confidence, knowledge and awareness"Practitioner at Coventry City Council
Throughout the pilot, our partners told us that offering support to care experienced young people in custody was particularly challenging due to a range of systemic factors. In some prisons, the systems for identifying care leavers are basic and where there is good practice it isn't routinely shared.
Many of these young adults have a history of trauma, sometimes exacerbated by their experience of care and custody, which can impact their ability to build trusting relationships with practitioners tasked with supporting them.
"If the practitioner doesn't understand the trauma the young adult has faced as a result of being care experienced, it is harder for them to build that relationship, understand the young adult's behaviour, and they could even unintentionally reinforce that behaviour."Practitioner at Warwickshire Probation
Also, a lack of coordination between the professionals and misunderstanding of each other's roles and responsibilities made it more difficult for collaboration, often resulting in the young adult having to tell their story many times and having conflicting statutory plans. 
The Present
"It shows the young person that there are people who care about them"Practitioner at Coventry City Council
Following the Always Hope pilot in the West Midlands, there has been an improvement in the relationship between professionals, including better links between frontline practitioners. Now, they're raising awareness of each other's roles and responsibilities, and how they can work together to support the young adults, such as visiting them on the wings.
"Going into prison has been really helpful, I don't think I would have been able to do that without Always Hope."Team Manager at Coventry City Council
These positive interactions have enhanced practitioners' relationship with young adults, resulting in clarity for the young adult at the centre. This allows everyone to organise together and show the young adult that they care.
For example, one young man who was supported by Always Hope had a Probation risk assessment which included ensuring he had positive social connections on his release. Being in care meant he had lost contact with many people from his past. He had very limited information about these people, only first names and a rough idea of when they were in his life. As part of Always Hope, he was given the opportunity to take part in Lifelong Links, an innovative approach developed by Family Rights Group, which aims to ensure care experienced young people have a positive support network around them. Even with limited information, the Lifelong Links coordinator was able to find and reach out to family members, past foster carers, teachers and other contacts, and had a really strong response rate back from people who wanted to support him on his release. Together they held a family group conference and worked together to create a support plan for his future. He is now doing really well supported by this personal network and he is considered 'low risk'.
The Future
"The young people still need to be at the heart of everything" Practitioner at HMP Brinsford
Finally, we discussed the future, and reflected on what else would make a difference in supporting young adults in this cohort. Some suggestions included:
All Local Authorities having a standardised local offer for care experienced young adults given prison sentences
Integrating the statutory assessment and planning processes of prisons, local authorities and probation services
Facilitating the identification and coordination of personal support networks
Appropriate preparation for release – meaning that no care experienced young adult leaves prison without somewhere to stay and support in place
Housing that is safe and appropriate and young adults know where they are going when they leave prison
Risk assessment and management plans should be informed by the views of all those who have worked with the young adult, who know and understand their history and taking account of strengths, risks, needs and vulnerabilities
Trauma informed training being available for all members of staff working with care experienced young people
Increased clarity for young adults regarding who is doing what to support them in custody and following release.
The good practice that has begun through Always Hope needs to continue and to spread. There is still so much work to be done and it is important to remember that together we have already achieved something powerful. Together we can do much more.
Get in touch with jessie.ben-ami@innovationunit.org to find out more.