Taking a Māori-centred approach to heart health
Māori heart health
With Heart Foundation of New Zealand, New Zealand
A new research report sharing deep insights informs new ways to bridge the gap between Te Ao Māori (the Māori world) and the heart health sector.
We've worked with The Heart Foundation to learn about Māori perceptions and experiences of heart health for themselves, their whānau (family) and wider community through empathy interviews in Te Tai Tokerau. 
"He mihi aroha ki a koutou te whānau i ā koutou pūrākau, i ō koutou whakaaro, i tō koutou āwhina"

Click the image to download the report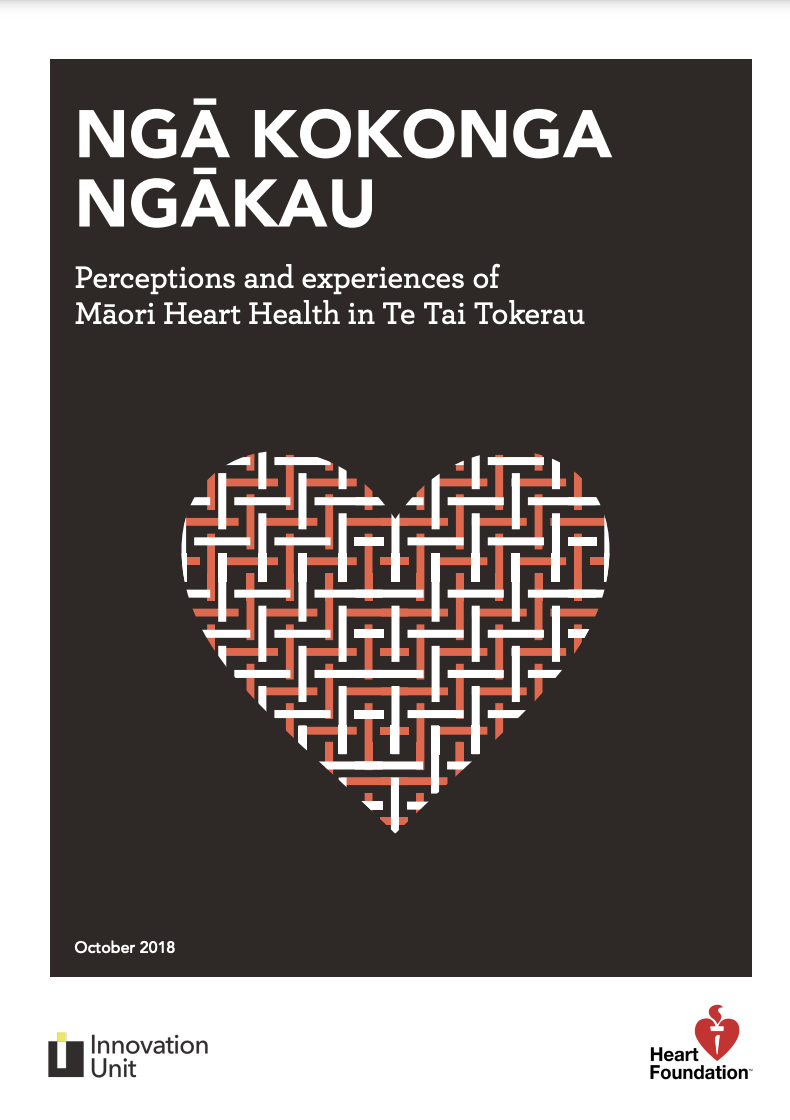 THE PROBLEM
Heart disease is the most common cause of death for New Zealanders, with Māori nearly nine times more likely to die from heart failure than other New Zealanders the same age. In Te Tai Tokerau where Māori make up 33% of the total population, cardiovascular disease (CVD) is the leading cause of death. In addition, Te Tai Tokerau face unique challenges as a large region with a geographically dispersed population who often experience high rates of socio-economic deprivation and health needs.
In thinking about how to bridge the gap between Te Ao Māori and the heart health sector, The Heart Foundation recognised the need to better understand the perceptions and experiences of heart health in Te Tai Tokerau.
OUR APPROACH
Innovation Unit Australia New Zealand engaged deeply with sixteen Māori living in Te Tai Tokerau who were within the new heart health screening age range (30 years for men and 40 years for women) and had not yet received a CVD risk assessment.
Starting in Whāngarei, we spent time in the East Coast, then travelled through Te Hiku o te Ika to Hokianga on the west coast, hearing from whānau in their homes, workplaces and marae. Empathy-focused interviews were grounded in a kaupapa Māori approach to ensure issues of CVD were explored within a Te Ao Māori world view.
Working with Māori and health system stakeholders, we began to co-design and prototype what a Māori-centred approach to heart health could look like.
"I became so emotional learning about these people's experience. You created that for me, you helped me visualise their life outside of CVD. What we learned - like people's attitudes toward death - wow, that was interesting to understand. These cultural influences were a huge learning. One size doesn't fit all." Tony Duncan, Heart Foundation NZ CEO

GENERATING NEW INSIGHTS
Listening to stories we built a rich and detailed understanding of what heart health meant to those we interviewed:
Whānau are everything, and are intrinsically linked to wellbeing

The doctor experience is disconnected from Te Ao Māori

Heart issues are rife but rarely talked about

Leading by example is more influential than information alone

People are more likely to see a doctor if they have a positive relationship

Male fear of the screening process or result can override fear of dying
The research
16 empathy interviews
with Māori living in Te Tai Tokerau.
3 personas
which provide insight into the diversity of people's contexts and what is important to them.
3 Maps
Communicating insights: Hauora Māori ecosystem map; Whakapapa influences on hauora map; lifestyle change process map.
IMPACT
The insights and stories from Māori have fundamentally changed how the Heart Foundation understands the relationship Māori have to heart health, the risks, and CVD screening.
These findings have opened the door for more positive, whānau-centric approaches to screening, grounded in Te Ao Māori values. For the staff closely involved in the project, the process helped them form new relationships, experience significant mindset shifts, and build their cultural competency in working with Māori.
The Māori co-designers involved were able to fundamentally shape the solutions that might contribute to improving the wellbeing of their whānau.
"The most powerful part of this process for me was witnessing a power-shift where health experts were invited to learn from our Māori co-designers and their deep cultural knowledge and expertise." Kataraina Davis, Innovation Unit Project Lead Māori

This project has provided a rich opportunity to fully immerse Innovation Unit Australia New Zealand in Te Ao Māori, and to improve and refine cultural co-design practices.
For whānau in Te Tai Tokerau, the insights have opened exciting new possibilities for how a strengths-based approach to improving Māori heart health could be supported.
The Heart Foundation is continuing to work with community and health stakeholders to explore how the ideas generated through the co-design process might be taken forward.