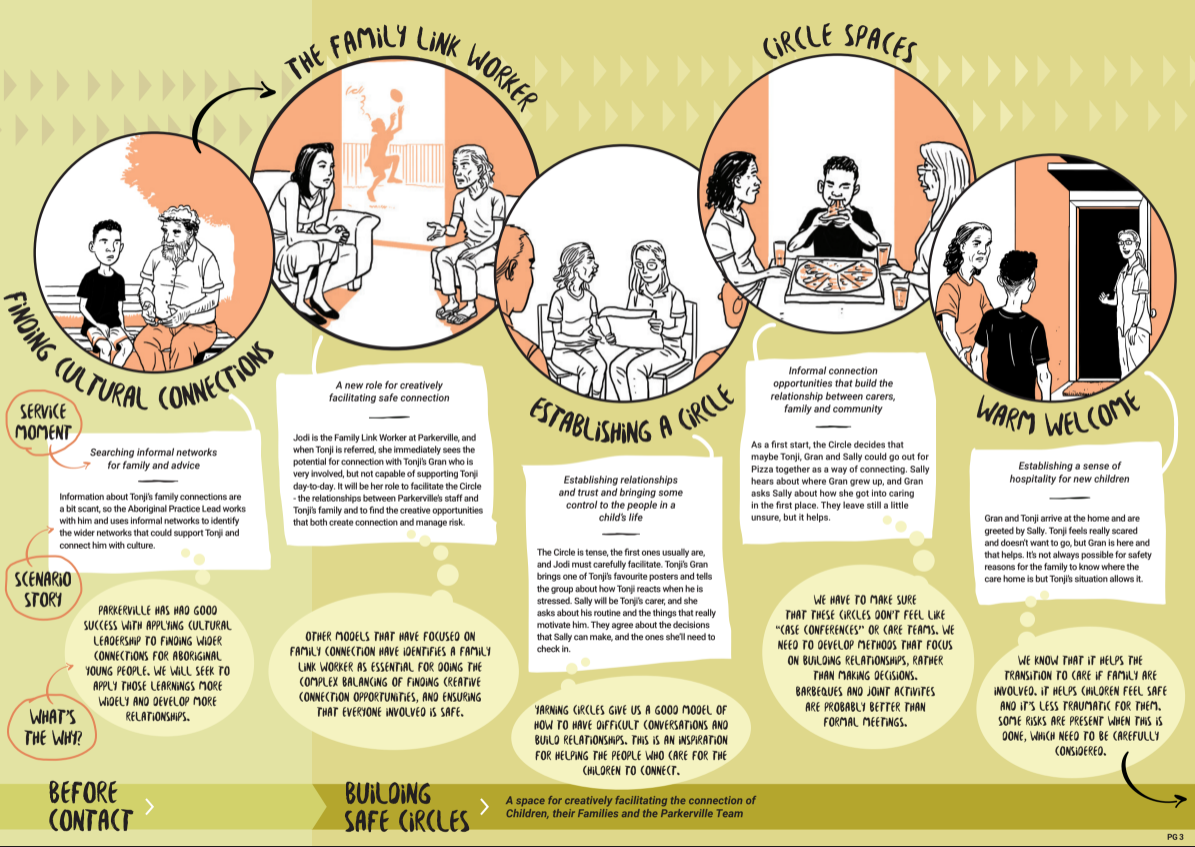 Our Way Home: new roles, insights and stories of impact
Blog | 28 Jul 2022
In 2019 Parkerville Children and Youth Care embarked on a journey to redesign its out-of-home care services out of a desire to transform the experiences of children in care and their families, in a state where the number of children requiring out-of-home care is growing each year.
Supported by Innovation Unit, Parkerville has developed a new model of care called Our Way Home that is centred around elevating the voices of children and their families.
The model positions deeper connection as the default setting for trauma-informed care, and seeks reunification as its end goal. One of its most important features is the establishment of a role called the Family Link Worker, whose job is to instigate and support greater connection in care settings. The Family Link Worker connects children/young people with those in their lives who are important to them and helps to build trusting relationships between the child's family and their carer, as well as supporting carers to continue and build upon these connections over time.
Throughout the co-design process that formed the basis for the development of a new model for care, young people and families told us that it was sometimes hard to know who was there to help them stay connected. Carers shared that they sometimes found it difficult to hold that point of connection amongst the other vital activities that fill up their days, and often the information they need about young people's families and communities isn't available. As we prototyped possibilities for a new model of care with young people recently in care, carers, survivors of the Stolen Generation and other stakeholders, the Family Link Worker role emerged as a means of addressing this gap.
Facilitating relationships in a complex care ecosystem requires particular skills, such as being able to creatively develop connection opportunities and the identification and mitigation of risk in an emotionally charged environment. The Family Link Worker role is responsible for kickstarting creative connection between young people and their families; liaising with their Parkerville Team Leader and Department of Communities Case Workers to make this happen while supporting carers to build on these relationships over time. The Family Link Worker also supports carers to establish and build the trusting relationships with a child's family that enable shared care, which is an important step towards restoration.
Building trusting relationships and relationship-building skills
Skilled Family Link Workers instigate relationships to bridge the gap between a young person's 'home away from home' and their family and community, so that connection is a default setting in a young person's care journey. Family Link Workers put young people at the centre of their practice, working towards facilitating a healthy shared care arrangement and reunification at a pace and form that is responsive to the needs, safety and wellbeing of young people and their families.
The Family Link Worker also plays important roles in the establishment and initial facilitation of bridge spaces, which are spaces for relationship-building between carers and families, and in the Care Team, where they help to capture and reflect and/or centre the perspectives and aspirations of the child and their family, to feed into personalised care planning and decision-making. Both of these spaces aim to build trust amongst those who play an important role in young people's life, and give both the young person and their loved ones a closer connection and greater say in the care journey.
Family Link Worker key responsibilities:
Building rapport and trusting relationships with the young person's immediate and extended family, and with carers and other professionals.
Supporting carers to establish a Bridge Space with the young person's family to enable the development of trusting relationships for shared care.
Working with the young person and their family to ensure their needs and aspirations are reflected in care planning and decision-making.
Using knowledge of trauma-informed practice and solution focussed theory amongst other theoretical and practice frameworks to work with and build trusting relationships with the child's immediate and extended family.
Designing innovative approaches to ensure all children and young people have meaningful connection with those who are important to them.
Supporting families to access relevant community supports, groups and educational opportunities to increase their parenting capacity.
Liaising and collaborating with key external agencies and other stakeholders involved in the lives of children and young people.
Over time, Family Link Workers build the capabilities of carers to take on the role of connection and shared care. Originally, the Our Way Home prototype had assumed the Family Link Worker would take over the responsibility for connection. However, during the pilot process we've learned that in fact it's vital for this responsibility to remain with carers, and for the Family Link Worker role to be a supportive and facilitative one that can be stepped down over time as carers develop stronger relationships with families and build their confidence in managing connection. Creative connection and shared care with families should be part of the core business of care, and every carer should be supported to take on this work that's so crucial to achieving restoration.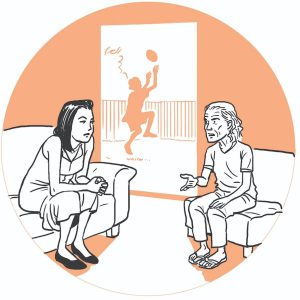 Stories of change
Although the Family Link Worker role is still being prototyped, early signs of impact from work so far can already be seen.
Milly
Milly is a primary school-aged child and has been in care since her birth, with no contact with any biological family members in that time and no family members identified.
The Parkerville Team Leader identified an opportunity for a Family Link Worker to dig deeper into Milly's family, which led to collaboration with the Department to undertake a genogram. Using some of this information they discovered, the Aboriginal Practice Lead approached family members, and started to build relationships with them to overcome initial lack of trust.
Through these efforts, a huge family network has been identified for Milly – including nanas, cousins, and a sibling. They initially sent photos, followed by regular phone contact with a view to setting a face-to-face meeting.
Milly's carer worked with her to explain who the family members are when contact was first made, and the Aboriginal Practice Lead has also been talking to her, to help prepare her for this meeting.
Milly's carer is excited to help her connect with her family – she has always been an advocate, but did not know the information existed to make these connections.
Billy
Billy's parents were mandated to have contact with Billy and his siblings in a contact centre. Centre staff said the children's parents would attend, but would often leave early or not really interact with the children.
The Family Link Worker had the idea of moving contact to a park. The dad agreed, and after considering risks the Family Link Worker found a safe fenced park walking distance from the family's home. Mum and Dad now regularly come for visits, playing with the children and bringing a picnic, with Billy and his siblings' grandparents, aunties and cousins also coming along.
The Department also asked the Family Link Worker to support the family to have more meaningful connection during contact, particularly seeking activities the mum could do to help build her skills. After a couple of meetings, the Family Link Worker introduced a tool that helped generate new ideas about what the family could do together, and the family chose to make pizza together at the contact centre.
Contact between family and children is now occurring weekly, with phone contact in between to also start. The family indicates they are finding the activities fun, and want to go swimming together – another connection card suggestion – soon. The case worker is fully supportive, and the Family Link Worker is again working through risks and mitigations.
Billy's parents still have issues that they are working through, but for now, he is seeing his mum and other relatives regularly, and looks forward to their activities together. The contact centre can see that Billy's mum's parenting skills and capacity are improving.
In both of these examples, progress with family relationships may not have occurred without the Family Link Worker's facilitation. Their involvement in the care process creates a mindset shift, signifying the importance of family relationships to everyone involved and opening up a licence to try sometimes quite simple new strategies that, over time, make a big difference to children and young people.