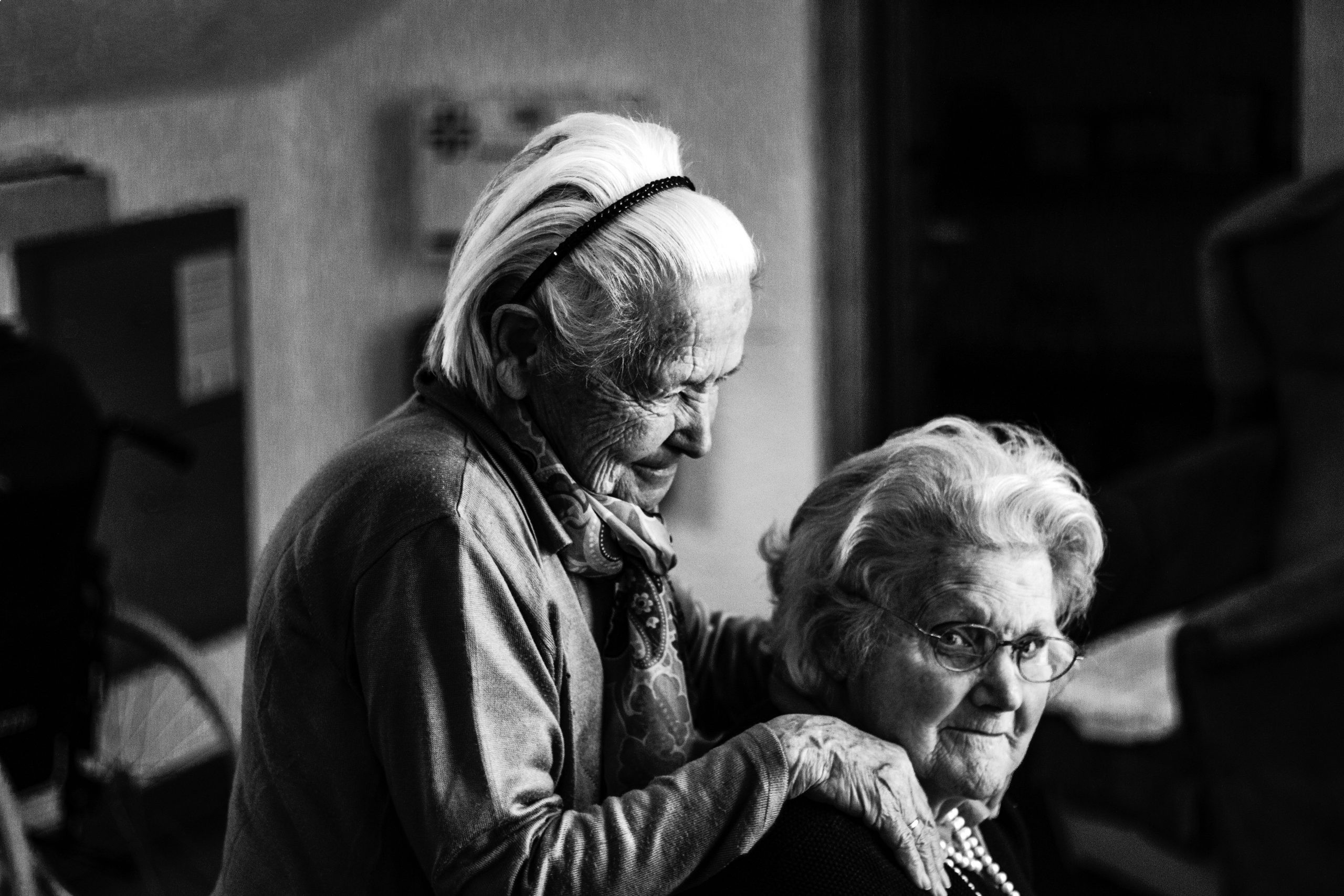 A collaborative approach to innovation and living well could transform the way we deliver care
Blog | 07 Dec 2020
Innovation Unit head of health and social care William Roberts sets out a vision for a stronger, more sustainable model of care that supports older people to live better lives for longer.
If there is a silver lining of the Covid-19 pandemic, it is perhaps the realisation that we need to do things differently to create thriving communities and support those in society that needs it the most.
With the older and most vulnerable people in our society hit the hardest, care homes across the country have been at the epicentre of the challenge. Faced with ever-rising demand, chronic underfunding, lack of integration with health services and staffing shortages, the care sector has been under growing pressure for decades. When the Covid-19 crisis hit, the pressure rose to a level arguably never seen before.
The provisional number of deaths of care home residents occurring in England and Wales for the first six months of 2020 ( the most recent figures published by the ONS) was almost 30,000 more than the same period last year, a 46% increase. Over 20% of the total (around 19,400) mentioned "novel coronavirus" on the registration.
It is only thanks to the herculean efforts of care providers, care home staff, domiciliary care workers and carers that the death toll to date has not been even higher. Those of us with family members and friends in care homes owe a debt of gratitude for the commitment and courage of care workers. And we have all witnessed the inherent strengths of care homes, the agencies and the sector itself: the focus on providing high quality care has prevailed, even when faced with the most challenging conditions and with at times confusing and contradictory advice from the centre.
As the sector learned lessons and adapted at rapid speed, we appear to be in a better shape for a tough winter. Yet a better crisis response is not enough. Unless we deal with underlying structural problems, we will fail to deliver the care and support our old people need and deserve, we will fail to attract and retain staff we need in the care sector, and we will fail in our duty to create places where citizens' assets – including those of our most vulnerable in society – are valued and utilised to create better lives and thriving societies.
Lessons from innovation in crisis
Over the last 20 weeks, the health and care sector have pushed out the boundaries of the 'art of the possible'. Staff at all levels have demonstrated time and time again how change can happen at scale and pace, even in big complex systems. We must use this as a platform for re-imaging how we live and age well, and for re-defining and innovating our models of care.
Current vs future models of care
Now
Future

Paternalistic model of care

Asset-based

Care by the building and minute

Care by the footprint and need

Use our kit

Bring your own kit

Fixed accommodation that you grow out of
A range of living accommodation that grows with you
Enclaves
Interconnected communities

Siloed activities

Intergenerational activities 

Individual contracts 

Shared funding 
There are many examples of innovative approaches in the sector that we can learn from. Take the Chocolate Quarter, an amazing village that provides a mixed provision of housing, lifestyle choices and care.  Or in Hertfordshire, where their long term approach to partnership and systemwide investment (in the widest sense of the word) into social care helped them to manage better through the immediate crisis.
Chenmed, a primary care led care provider taking a population health approach to managing health and care means that they can provide support to live well for low to middle income seniors with Chronic Conditions. If technology is your thing, look no further than the awesome WCS, who use digital methods and tools to enhance the lives of their residents and deliver outstanding care.
The Dutch and Danes have been pioneering intergenerational models of living for decades and can demonstrate significant benefits. For the last decade, Shared Lives Plus has been providing amazing opportunities for people to live independently but also form and maintain the human connections that give purpose to life.
Each of these approaches addresses one part of the problems the sector faces. Some provide great housing options, but without the care. Others utilise technological solutions that are not affordable to the average person. Some offer the opportunity to have great access to healthcare and take on board the population health, but don't provide for the housing element of need. There are attempts to get intergenerational living right, to offer autonomy and solve funding problems – but nowhere has, as yet, taken a 'whole system' approach to this.
Taking things further: a holistic approach
Imagine if you were able to take the constellation of interesting and exciting innovations and apply them across a single place. When leading work at NHS England around care homes, I became interested in looking at whole system approaches that had been developed in other areas and sectors.
I looked at the work done in the hospice movement to move away from a focus on hospices as buildings to think differently about the way in which a person could be helped to die in the setting of their choice, with the support that they needed.
I looked at the ways progress had been made in the design of affordable, exciting and interesting student accommodation in university towns and cities, and contrasted that with old people's care: based either on the notion of going to a retirement village or a care home, or staying in your own home, but with no real option to be part of a wider, intergenerational community.
I looked at technological innovations in banking and shopping that focus on what is offered for the user. Think about the way we book holidays, the growth of Airbnb and a multitude of solutions that are available to provide ways and places of working. We could create far better places to live and age well, but to do so requires us to take a whole system approach to change and work with people to understand what they really want.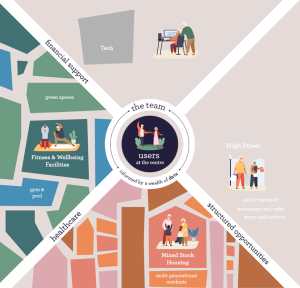 What if we were to design a development around the idea of how we can support people to live healthily for as long as possible with the care not provided within the building but across the footprint of the development?
If we were able to use insights and lived experience from service users and the data around their needs, we could really start to understand the problems and think creatively about some of the solutions that we might develop and the kinds of new ways of collaborating that may make this work.
We are all ageing. If we want a better and fairer future for an ageing society we will have to start to build it as the promises and trailed government reforms haven't happened at any point over the last twenty years.
If any of this sparks thoughts or interest, get in touch. I've spent the last five years thinking about how this better and brighter future may exist and it's only going to be by working together with those who both experience and really understand the sector that we will be able to show that there is a better way to do this.