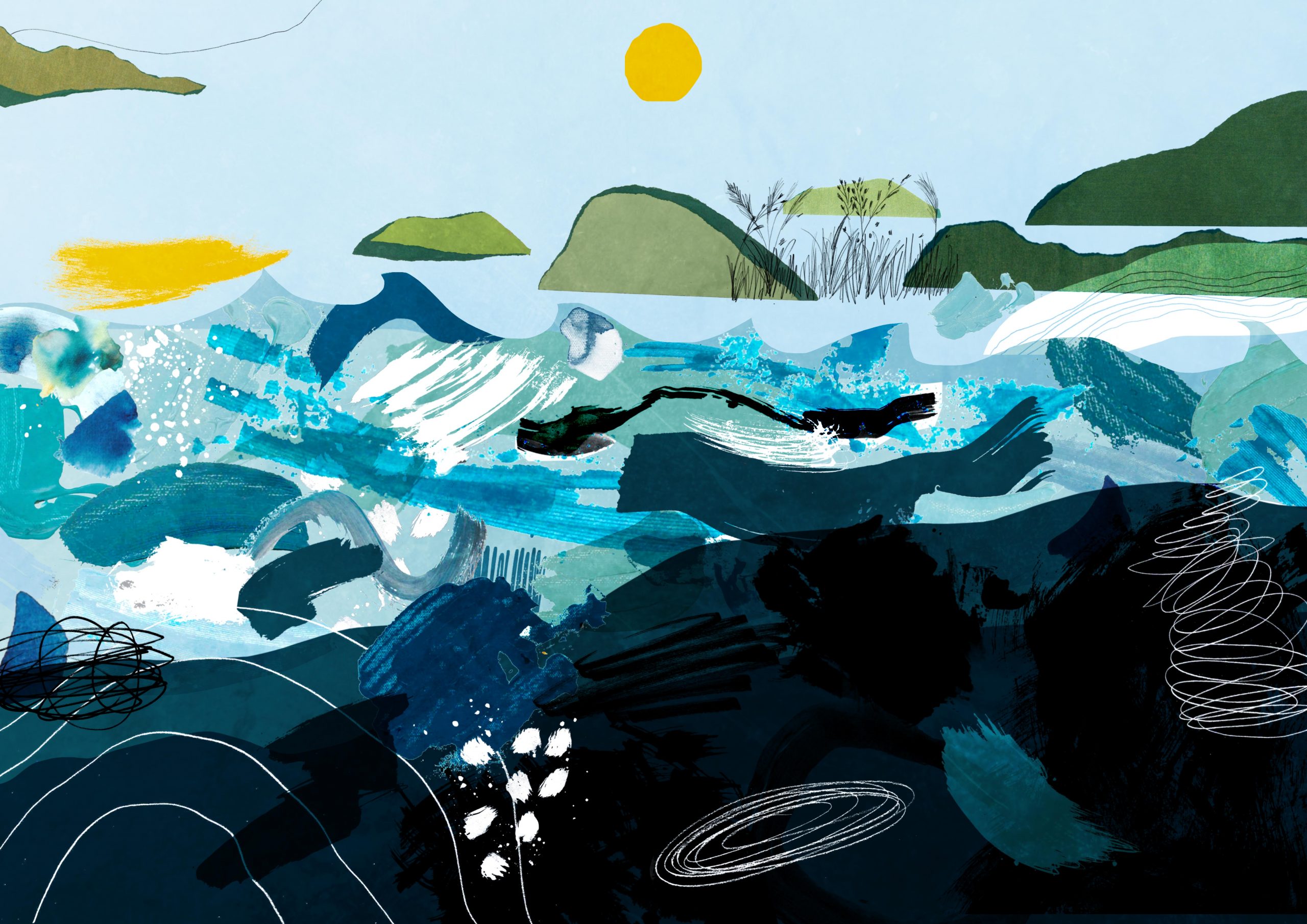 10 creatives to help bring your stories to life
Blog | 12 May 2021
We've loved collaborating with a range of talented creatives over the years, and encourage others to work with artists – such as illustrators, designers, photographers and videographers – to communicate complex issues in better ways.
Earlier this month we shared how three of our recent insights publications have been included in the Kātoitoi 2020 design in Aotearoa archive.
Although creating outputs like these is just one small part of our process, we wanted to showcase how working with visual artists can help bring stories to life in a way that makes them more engaging, digestible, and human. Below are five creatives we've loved working with recently, and five more that we admire (and have our eyes on for future projects!).
5 creatives we've loved working with recently
Samuel Joseph: designer and illustrator
Sam is a wizard at clean illustrative styles and helped us hero diverse New Zealanders' stories of being active, as well as opportunities to create a more age-friendly Tāmaki Makaurau. Sam lives in Brisbane where he also helps his wife Julia build vans for her boutique rental van business.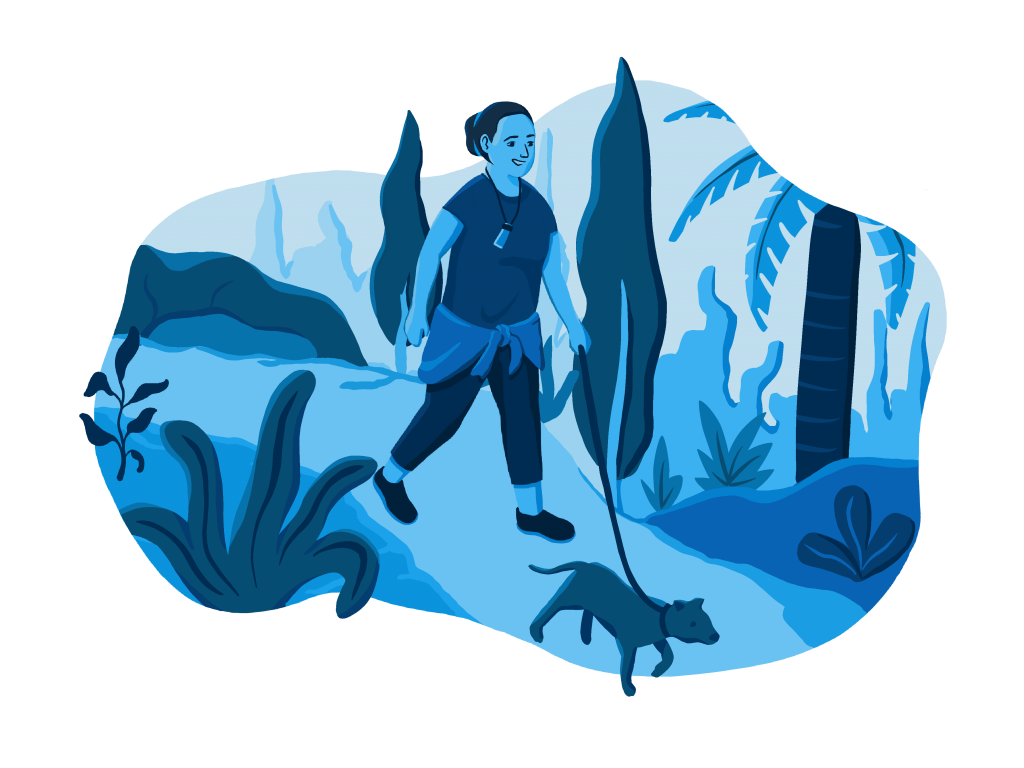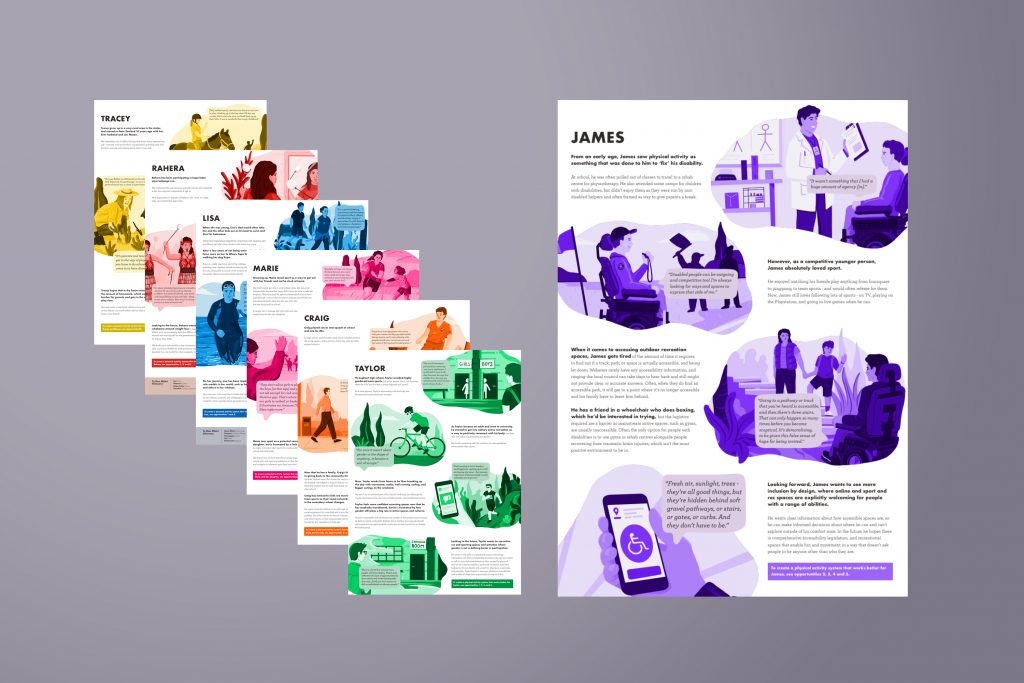 Sam's illustrated image of 'Lisa' from her story of being active (above), and the final set of journeys (below) from our recent project with Sport New Zealand Ihi Aotearoa.
Fern Grant: artist and illustrator
Fern's style is the perfect balance of beauty and chaos. She helped bring to life women's stories of mental distress and wellbeing when becoming a mother in our work with the Health Promotion Agency. Check out her instagram for delicious collages and art for sale.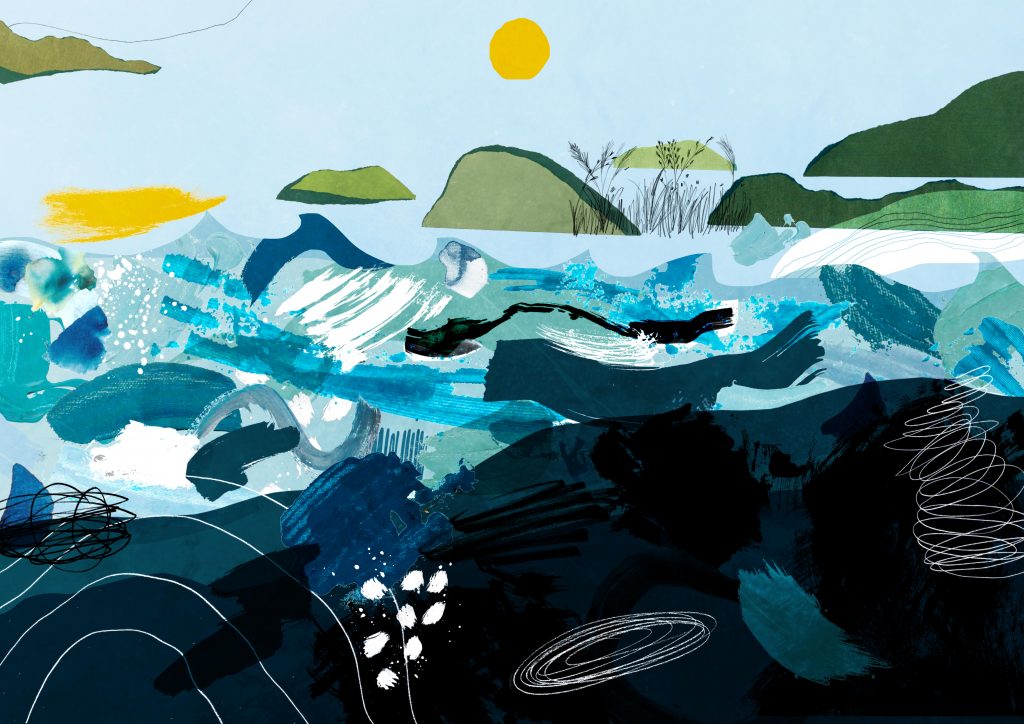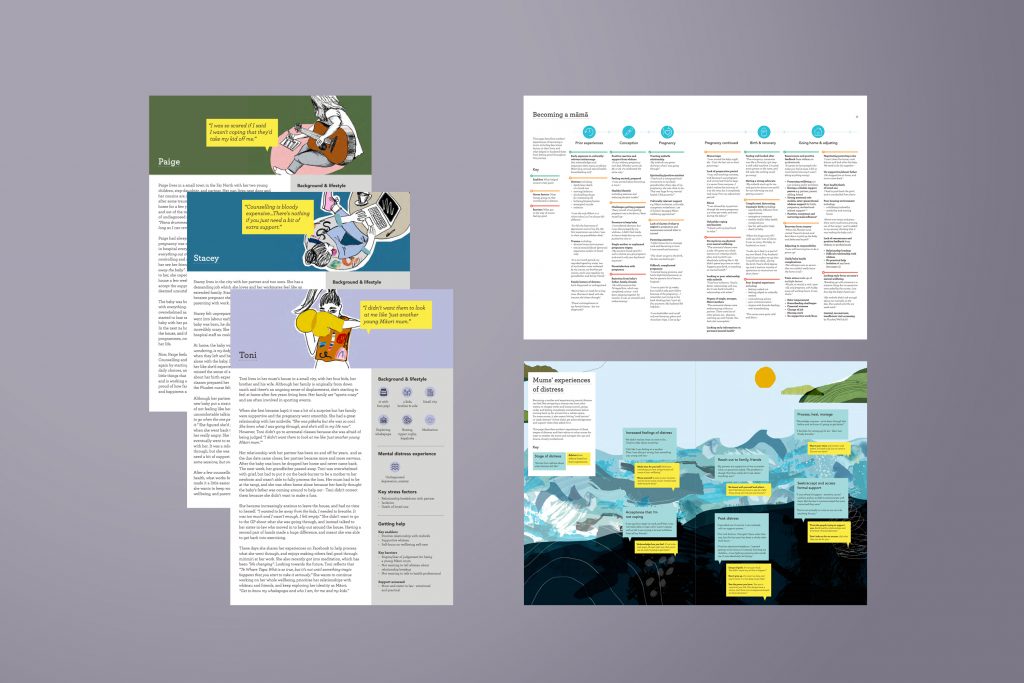 Fern's illustrated image of a choppy sea (above), and the final report and persona (below) from our project with Health Promotion Agency Te Hiringa Hauora.
Carol Green: illustrator and designer
Carol's illustrations are playful and approachable. We've worked with Carol on a range of projects over the last few years, including recently telling stories of intergenerational connection during the COVID19 pandemic. Check out her portfolio and shop here.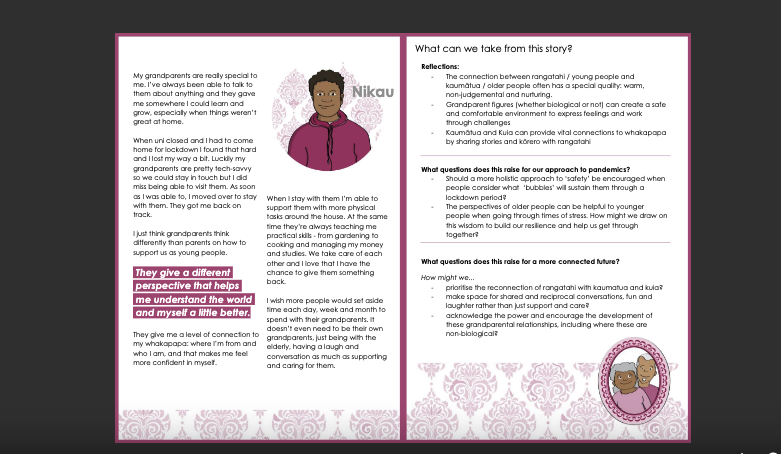 Carol's illustrated image of Nikau (above), and the final personas (below) from our project with Health Promotion Agency Te Hiringa Hauora.
Bruce Mutard: illustrator and comic-designer
Perth-based illustrator Bruce is one of Australia's leading comic makers and has been creating graphic novels and comics for 15 years. A fast-paced artist who creates compelling visual narratives, Bruce brought our work with Parkerville and Foyer to life. See more of his work here.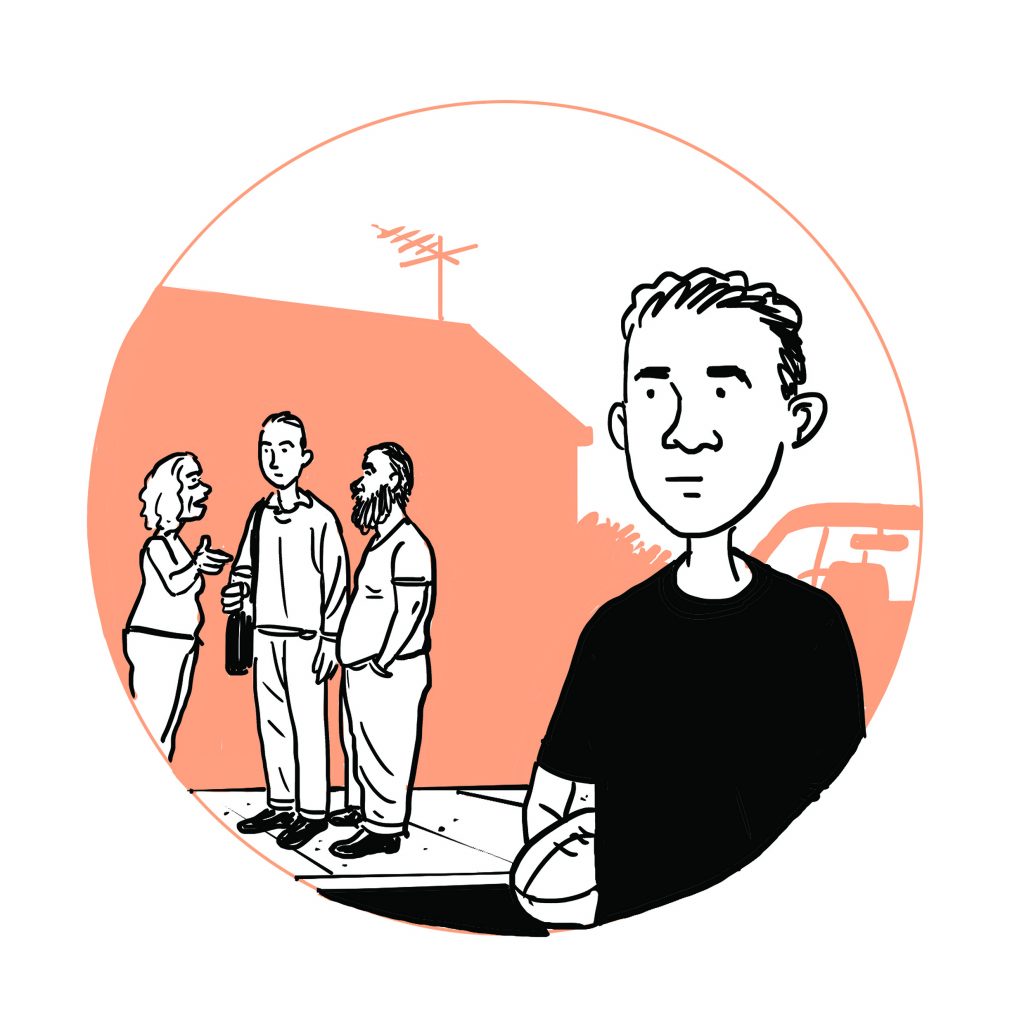 Bruce's illustrated image of a young person in the care journey (above), and the final journey map (below) from our project with Parkerville Children and Youth Care.
Jeremy Nixon: animator and director
NZ-born and now UK-based Jeremy has animated everything from indie game releases to rap music videos. Back in 2018, Jeremy worked with us on illustrating journey maps showing mothers' experiences of housing instability in Tāmaki Makaurau. Check out his work here, and his animation break-downs on instagram.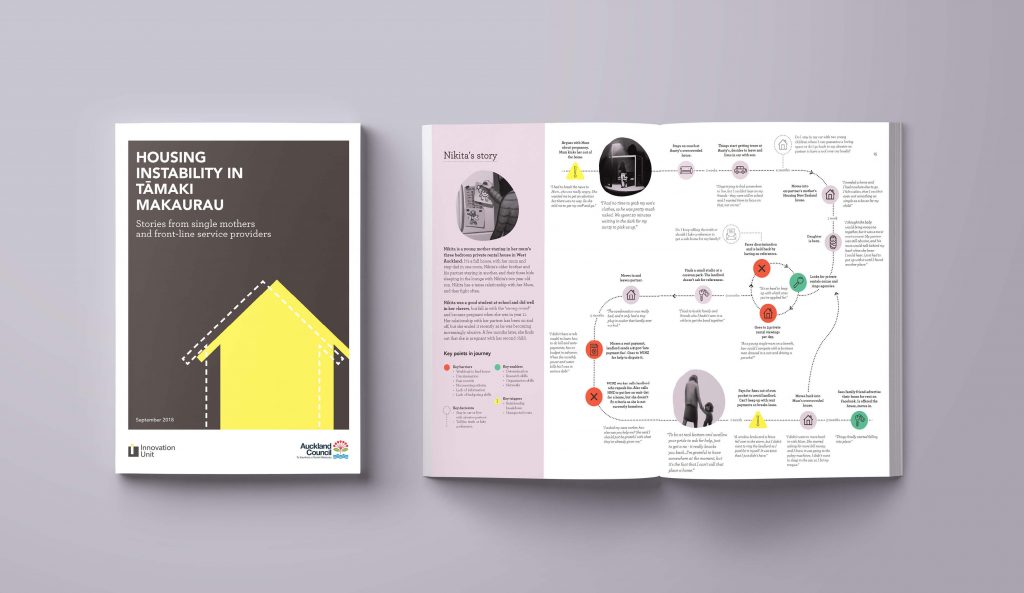 Jeremy's illustrated image of a mother and child being turned away from housing support (above), and the final journey map (below) from our project with Auckland City Council.
5 creatives we admire
Charlotte Allingham
Charlotte is a queer, Wiradjuri, Ngiyampaa women who has her own artistic style that features powerful images of activism. Her illustrations and comics draw on themes of survival, strength and femininity. Check out her instagram and more of her work here.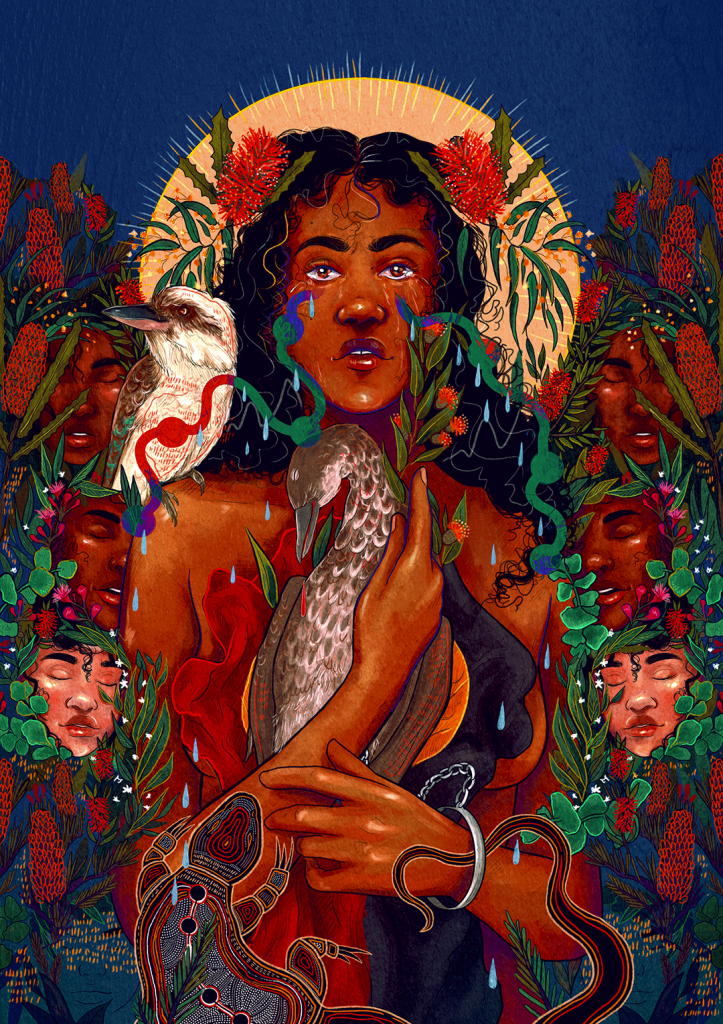 Charlotte's 'I WANT TO THRIVE' Digital Illustration. Image from: https://www.charlotteallingham.com/portraits
Graham Tipene
If you've been to Tāmaki Makaurau (Auckland), chances are you've seen Graham's work. From tā moko to bridges and buildings, Graham tells incredible stories through his art. Watch him discuss his 2020 Te Tatau Kaitiaki piece for Te Ao Mārama, Tāmaki Paenga Hira Auckland War Memorial Museum here, and check out his work on instagram.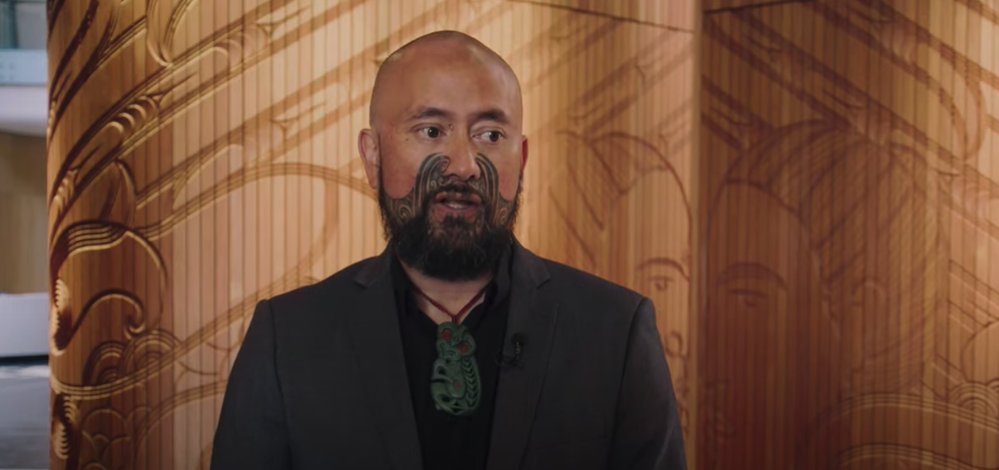 Graham discusses his recent work 'Te Tatau Kaitiaki'. Image from: https://www.youtube.com/watch?v=uvEWW70aNwE&ab_channel=AucklandWarMemorialMuseum
Jessica Thompson Carr (a.k.a Māori Mermaid)
Jessica creates art – often featuring powerful images of wāhine Māori – to 'embrace and capture her endless journey into the reclamation of her māoritanga'. Check out her instagram and or snap up a print on her website.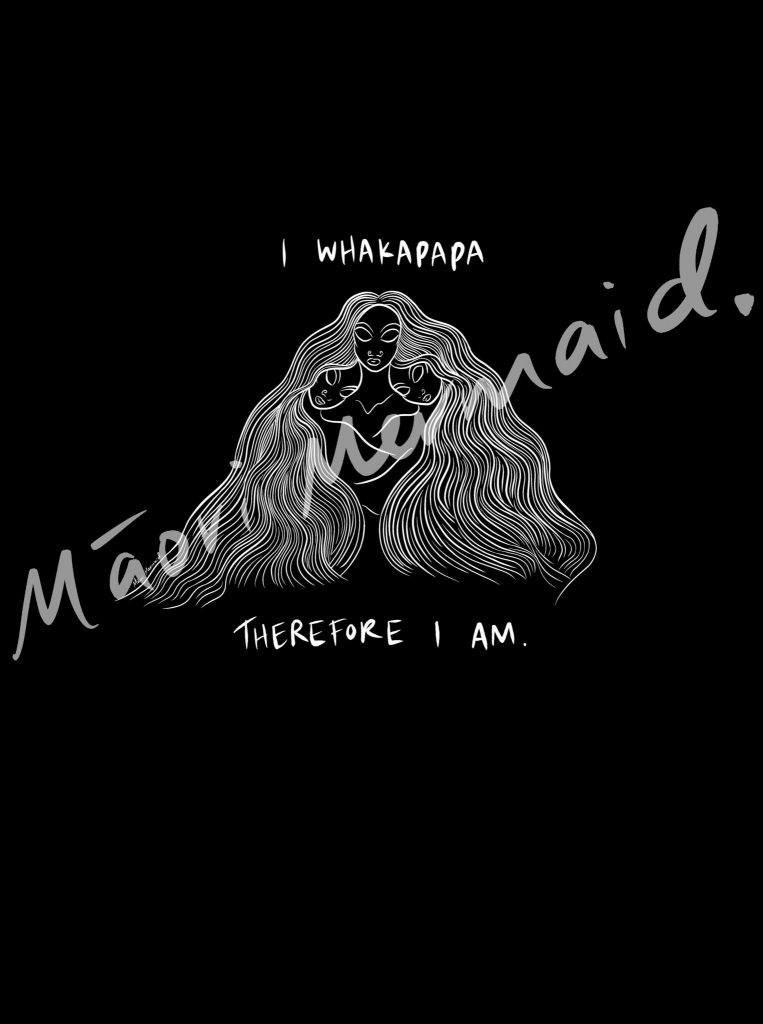 Jessica's 'I whakapapa therefore I am' print from: https://maori-mermaid.myshopify.com/collections/prints/products/i-whakapapa-therefore-i-am-1
Aretha Brown
Aretha is Gumbaynggirr women with a passion for social change who draws the inspiration for her art 'from her home in Melbourne's Western Suburbs and her own identity as a queer, Aboriginal, young person living in the confinements of an urban settler colony'. Check out more of their work on instagram and their free resource questions to 'decolonise yo'self'.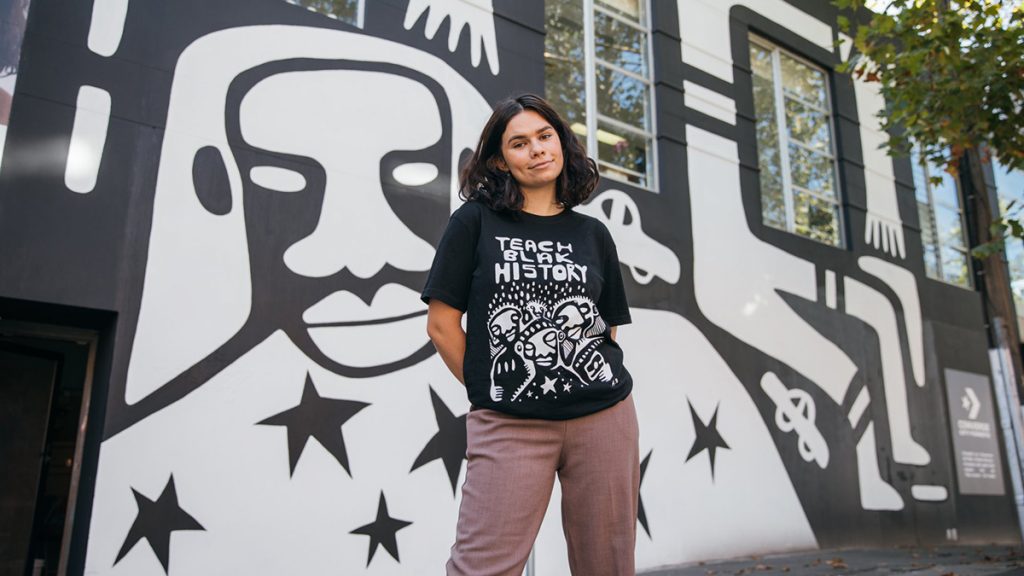 Aretha standing in front of her street-art mural. Image from: https://nit.com.au/environmentally-friendly-mural-encourages-conversation-about-blak-history/
Toby Morris
Although we've always loved Toby's visual breakdowns of complex social issues via The Spinoff, he became a house-hold name when he collaborated with Siouxsie Wiles on their award-winning COVID19 science-communications. Check out his social issue comics on The Side Eye, and more of his work on instagram. Toby also started a twitter-thread recently of amazing Māori creatives – check it out here.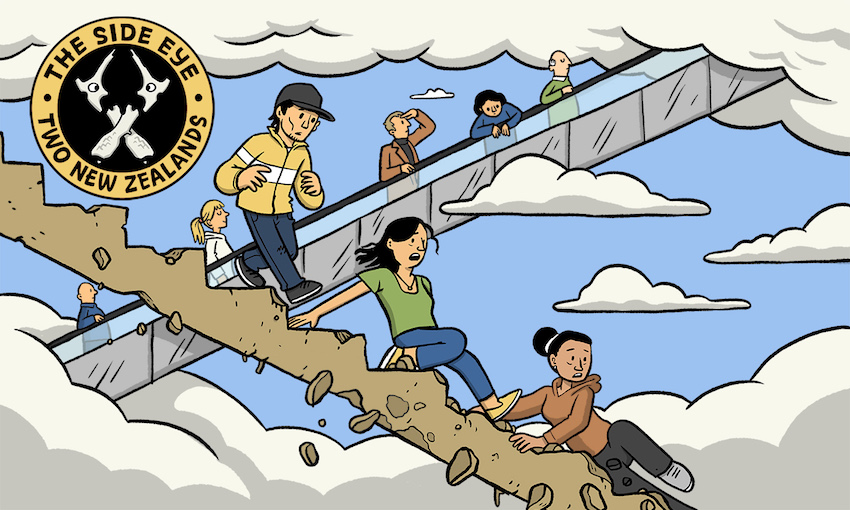 Toby's illustration of the 'Two New Zealands', in reference to the country's 'K-shape' recovery from COVID-19. Image from: https://thespinoff.co.nz/society/the-side-eye/25-03-2021/the-side-eyes-two-new-zealands-the-k-shape/