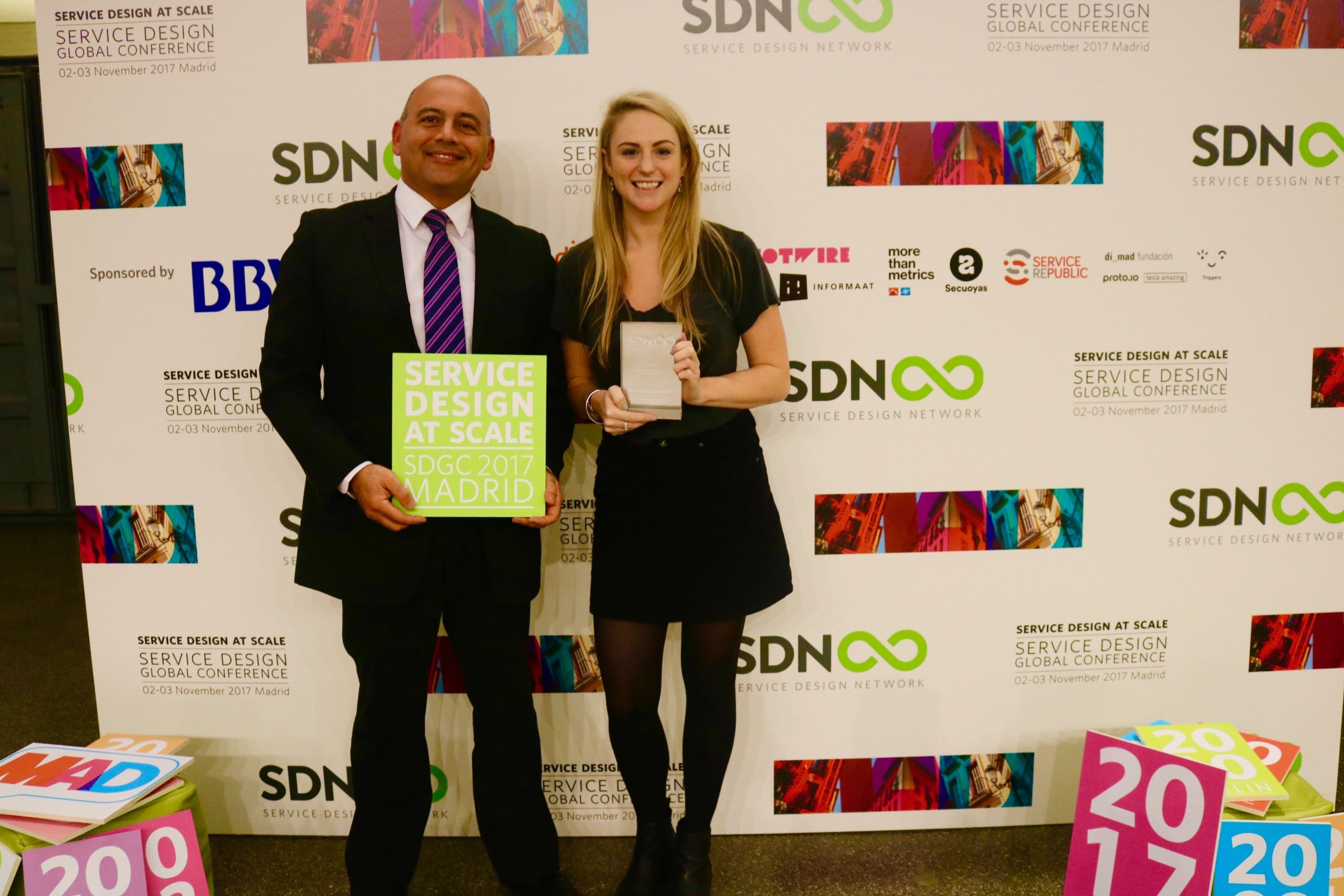 Ella Walding wins International Service Design Award 2017
News | Words Sarah Ward | 09 Nov 2017
Congratulations to Ella Walding for winning Service Design Network's International Service Design Award for her project helping the Maltese Government to apply design thinking and make change happen.
Last week, our Service Designer Ella Walding was awarded the International Service Design Award for organisational impact in Government. Ella was one of nine professionals and five students whose projects were shortlisted by a committee of international Service Design experts.
Ella's project, Servizz Design is a set of service design tools aimed to create change in the Government of Malta, and which have the potential to create change in any organisation. The tools have been implemented in Servizz.org, a platform Maltese citizens can use as a single point of contact for all public services. The platform can be accessed through physical hubs, a call centre, an app and a website.  
"This project has demonstrated that it is possible to use service design to create process change and culture change to deliver enhanced outcomes for those both delivering and receiving services."Ella Walding
Service Designer at Innovation Unit
Ella used a range of on the ground research methods to develop a rich set of insights. These included ethnographic interviews with Maltese citizens, frontline staff and managers from Servizz.org, as well as individuals from the Office of the Prime Minister, to understand the needs of both users and staff. An analysis of existing qualitative and quantitative data, and direct observations of staff helped to ensure that solutions were tailored and were more likely to have an impact on existing issues.
Solutions included a long term strategy to steer the amount and pace of future service integration; a balanced scorecard of performance measures to ensure a richer way of measuring progression towards the overall vision; and a toolkit for creating transformational change across the organisation that comprises both service design and project management tools. 
Impact and benefits
The toolkit has already been used to transform the relationship between Servizz.gov and multiple government departments, significantly reducing delays for customers. The balanced scorecard has led to the introduction of new activities such as staff surveys, customer and department feedback interviews and monthly commendations which will increase learning and quality of practice. The strategy has led to increased certainty about the pace and scale of change.
"We designed creative yet subtle solutions to shift the culture to one of shared workshops, thank you emails, recognition of good work, conversations that build relationships and give staff the power to request change."
You can read more about Ella's project here.